Tips and tricks for you and your perfect rucksack
Sling the rucksack over your shoulders, buckle up and away you go! But hold that thought just for a second! Let's rewind a little and start over. Finding the right rucksack and, above all, packing it correctly, is way easier said than done. Generally, it's not until you are out on the trail that you realize you might have done something wrong. We want to save you that aggravation. First things first: Less is more! Anything you don't really need shouldn't come on the tour with you.
If you still don't have a rucksack at home or if you're thinking of buying yourself a new one, the following paragraph should give you a few important pointers. In addition to good footwear, a good rucksack is the be-all and end-all. A well-designed rucksack prevents aggravating back pain and makes hiking uphill way easier. First of all, you should have a clear idea about the kind of hike you're about to undertake and how far you plan on walking. Hiking rucksacks have a capacity anywhere between 10 and 95 liters, along with a wide range of functionality.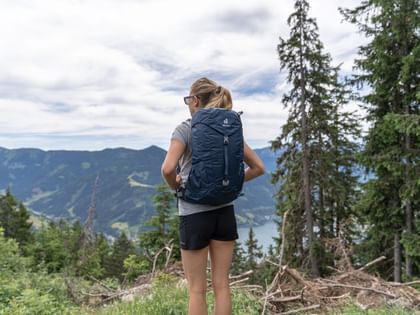 Which rucksack support system works best for me?
If you intend to set out on longer hiking tours with a bigger rucksack, finding the right support system becomes increasingly essential. Here, the hip strap plays a key role, distributing excess weight from the shoulders to the hips. So as to achieve that goal to the best extent possible, your rucksack's support system must be adjustable and flexible. The length of your back and the width of your hips should all be factored in. Especially if you are contemplating multi-day tours, we recommend trying out various options and redistributing the weight to take the stress off your muscles.
How much volume is necessary?
There basically is no such thing as an all-round rucksack, since models range from classic daypacks holding around 20 litres, to trekking rucksacks with a volume up to 95 litres. It might seem appealing to have lots of space, but just remember, this time it isn't your car or the train that will be carrying the weight, but rather you personally. That said, the rule of thumb is: As little as possible, since it will end up full in any case. A little tip: Lay out the things you expect to need during your tour to develop a better sense of what you should take with you and what you should simply leave at home. Here is a rough guide to the different rucksack categories:
Day packs (15-20 litres & 3-6 kilograms)
A day pack doesn't hold much more than a drinks bottle, a small snack and a thin jacket. In other words, this type of rucksack is only suitable for shorter hikes.
Hiking rucksacks (20-30 litres & 5-10 kilograms)
With this rucksack, you will be well-equipped for a day tour. Not too big, not too small! Pay particular attention to the back ventilation. Curved struts should push the rucksack away from your back, with the only point of contact being a thin mesh. This allows more air to circulate and sweat to evaporate faster. Naturally, this means the rucksack doesn't rest quite as snugly against your body, though this is not a huge deal considering the intensity involved in a day tour. In addition, classic hiking rucksacks are designed as top-loaders covered by a flap. This means, it can be filled from the top and has a spacious inner compartment, along with a few outer pockets to stow items you might wish to have quick access to.
Alpine rucksacks (30-50 liters & 7-13 kilograms)
These kinds of rucksacks are used for the most complex of tasks, including scrambling, alpine mountaineering, ski touring etc. The motto: lightweight and robust! On steep hikes and fixed-cable climbs, it is important that the rucksack not have too many elaborate features on the outside that might potentially snag on protruding rocks. Alpine rucksacks generally have two major compartments, allowing them to be filled from the top on the one hand, while also featuring a pouch for accessories lower down. Useful for stowing a sleeping bag, clothing etc.
Trekking rucksacks (60-95 liters & 10-18 kilograms)
For adventurers away from civilization! With plenty of space for a tent, sleeping bag, camp stove, ground mat, provisions, clothing and gear. Trekking rucksacks focus on providing good padding between the shoulders and pelvis. Here, the hip strap plays an essential role since it transfers weight from the shoulders to the hips. In this case, the length of the backpack has to match the length of your back. This makes walking for hours on end with a heavy load much easier and avoids unnecessary back pain. Like the Alpine rucksack, the trekking variant features a two-compartment system. The rope is generally stowed in the accessories pouch, while the rest goes into the main compartment.
What equipment is a must?
Rucksack pockets
The more pockets you have, the better organized you will be and the more storage volume you will have. Nowadays, of course, you can also buy packing systems separately, though it is more practical if the pockets and pouches are already integrated. However, bear in mind that this will also add to the weight of your rucksack. A pouch for your sleeping bag, side pockets for drinks and hiking maps, a separate pocket for your smartphone as well as knickknacks, either on the hip strap or on the top cover, and much more will help you avoid having to dig around endlessly for whatever you happen to need at the time. That said, further down in the article you will be able to read tips about the best ways to pack your rucksack.
Integrated rain cover
Nature is less predictable than practically anything else on this planet! Downpours and storms are far from a rarity. A rain cover weighs practically nothing, can be crumpled up really compactly and helps keep everything nice and dry. If your rucksack does not come with its own rain cover, you can also buy a separate universal cover from your Bründl Sports Shop. Let's face it – who wants to climb a mountain in soggy wet clothing?
Straps and loops
If you have no more room in your rucksack or the item is simply too big (hiking poles, for example), you can always attach them using the straps and loops provided. Even your helmet for mountaineering or that thick jacket can be strapped on easily. Just make sure nothing dangles down or obstructs your stride, potentially leading to a fall.
Drinking system
Do I need an integrated drinking system? This question is not unimportant, since many hikers prefer to avoid hassling with a drinks bottle, sipping through a tube instead. This system is often adopted by mountain runners who don't want to waste valuable time and effort rehydrating. If this is something you would also like to have, be sure your rucksack features a pocket for a hydration bladder, including an outlet for the tube.
How do I pack my rucksack?
Why is it important to pack the rucksack the right way? Why can't I simply stuff everything in and hike off into the sunset? That's what we'll explain to you now!
If you want to navigate the open countryside safely, you need to have the right center of gravity to avoid losing your balance and potentially stumbling. Negotiating all of those roots, streams and rocks demands a good sense of balance. With that in mind, your personal safety should always be a top priority! If heavy objects are stowed too high up in the pack, you might be inclined to sway more easily. On the other hand, if they are all the way to the outside, you might be pulled back, whereas, if they are stowed too far down, that might put an enormous additional burden on your body. So, what option did we overlook? Exactly – right in the middle of the rucksack, as close as possible to your body.
Inside pocket of the cover:
Particularly suitable for rarely needed valuables, including keys, papers, money.

Outside pocket of the cover:
Here, you put everything you might need quick access to. This might include, on hot days, sunblock, sunglasses, but also a head lamp, map etc. This is also a great place to put snacks, such as our Energy Ball or other protein source. That said, be sure to check out this LINK

Outside of the rucksack:
On the outside of your rucksack, you will stow everything that's big and cumbersome. Tent poles, trekking poles, ground mat etc. Specially designed loops and holders facilitate the process. The outer side pockets can also be used to hold paper hankies, drinks bottles and more.

Main compartment:
Heavy objects should be packed close to your back in the upper half of the rucksack, which will stop the weight pulling your body backwards. Below that, you will have your climbing gear, food, cooking gear and everything else you need to carry with you. Lighter items, such as weather protection, first-aid kit and a towel, are stored higher up and more to the outside, since they have less impact on the overall weight distribution.

Bottom pouch:
Lightweight equipment such as a sleeping bag and clothing are ideal for this particular part of the rucksack.
The perfect fit
Before you make your final adjustments, your rucksack should be fully packed. In that way, you will be able to clearly feel the weight distribution. The hip belt/hip fin should rest on the top of the hip bone, since this is where you will transfer most of the weight, automatically taking stress off your shoulders. Secondly, you will need to pull the shoulder straps tight, allowing the rucksack to rest snugly against your back without leaving a space (with a classic hiking rucksack, at least the mesh should be touching the body). In making this adjustment, be sure to leave plenty of room around your head and neck to allow freedom of motion. Thirdly, ensure that the chest strap lies on top of your chest and is locked in place. Finally, adjust the length using the straps provided to ensure the load is centered on your body perfectly.
Unisex rucksacks are not always the best solution for hiking. Some models designed for women make a lot of sense, not least because women generally have a shorter back than do men. In other words, the fit will be better and the hip fins will be tighter. The chest strap is also set a little higher to avoid unnecessary pressure. All of this, so that everyone gets the most enjoyment out of their personal hiking experience!
Suggested packing list for your mountain tour (volume: 20 - 50 liters)
If you follow these brief tips, not only will your body thank you for it, you will also get far more joy out of your mountaineering adventures. If you can check off all of the points we have listed, that means you are now ready for your tour. So: Sling the rucksack over your shoulders, buckle up and away you go!!
packing list:
change of clothing
first-aid kit
bivy sack
drinks bottle (at least 1 litre/person), hiking provisions and snacks
hiking maps
rainwear, rain cover
UV protection (head covering, sunglasses, sunblock)
trekking poles
mobile phone
headlamp
Hiking-Backpacks at Bründl Sports