The hiking season is open - only which footwear?
Find your perfect hiking shoe
The snow melts, the flowers sprout and the sun laughs over the mountain tops - come in beloved summer and with it the hiking season. Of course, for all mountain lovers also the right footwear to consider, so we have for you the right tips, with which you are guaranteed to arrive at the summit with a sense of achievement.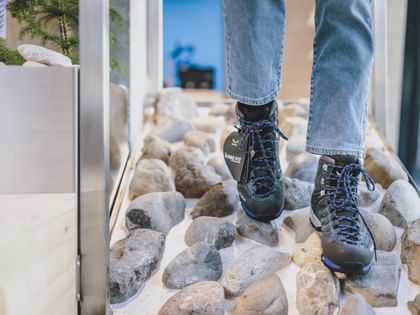 Basically, the shoes must fit the planned tour and be designed for it, therefore it is important to ask yourself in advance which mountain peaks you want to aim for. Are they simple round trails, rocky mountains, via ferrata, etc. It is also important to note apart from the shoe variants, that they are cut one size larger or rather wider than too tightly cut. Especially when going downhill, the foot slides forward a little bit and must not bump too much, otherwise blisters and pressure pains can quickly develop. In addition, the foot usually swells a bit when hiking, which should be taken into account. If they are too tight it can also happen that you quickly get cold feet and a poor circulation. In summary, the following points are relevant:
Field of application
Upper material
Sole
Shaft
Fit
Lacing
Which shoe fits my hikes?
Multifunctional shoe:
Field of application: lighter hiking tours on firm ground, trail running
Advantages: Low weight, easy and quick to put on or take off, high wearing comfort
Disadvantages: Low support and little lateral support, no ankle protection - low shaft
Light hiking shoe:
Field of application: hiking in the mountains with a light pack and moderate walking time
Advantages: Better ankle protection - mid-height footwear, good comfort, stability
Disadvantages: Soft shoe - unsuitable for rugged terrain and large packs
Trekking shoe:
Field of application: demanding hiking, longer tours with a lot of luggage
Advantages: High stability, suitable for off-road use - holds up well in rough terrain, low risk of slipping, weather-resistant, firm sole, high shaft
Disadvantages: Weight, bulky, a lot to lace up
High mountain shoe:
Field of application: high altitude tours, via ferrata, technical mountaineering, expeditions
Advantages: Perfect grip and stability, crampon resistance, weather resistant
Disadvantages: Very high weight, little rolling freedom, very stiff and hard, not suitable for hiking trails
Which upper material and sole are used?
Mostly the material of hiking or trekking shoes consists of traditional leather (smooth leather, suede, nubuck leather). In addition to this material, however, synthetic materials have now also proven themselves, which are usually processed in combination with leather. They are more breathable and at the same time robust. Many models are equipped with a waterproof and breathable membrane between the upper material and the inner lining to protect against moisture. A well-known example of this is the Gore-Tex membrane. Whether rocks, roots, scree or gravel, the outer sole of the shoe should withstand as best as possible. It influences surefootedness and therefore usually consists of a coarse, well-distributed "rubber tread". Pioneer in this field is the Italian manufacturer Vibram. In the meantime, however, there are also alternatives to the classic "rubber profile", such as Adidas Terrex with its Continental sole.
How do I shop properly?
The hiking shoe should always be tried with thicker hiking socks, so that the foot has enough space in any case. In addition, there should be a half-centimeter distance from the toe of the shoe to avoid discomfort when walking downhill. In the morning, the feet are usually smaller than in the afternoon, so hiking shoes should not be purchased immediately in the morning. A good grip on the heel is also of enormous importance. Since each type of hiking shoe has different lasts, depending on the model and gender, it is best to try the hiking shoes on a test track in the store to get a good feel for the shoes and check whether you have a good grip in the shoe. An optimal shoe ensures maximum comfort, function and safety, so as not to have any problems even on longer tours. If you have found the right model for you after successful consultation, nothing stands in the way of the first mountain tour. However, you should start with an easier tour to get used to the new hiking boot. With the right hiking boot, you have then found a faithful companion that you can enjoy for many years and that will make your mountain adventures even more fun.