A woman's best friend - the sports bra
For women, the most important item of sports clothing is the sports bra. It isn't only women with large bosoms who need a special sports bra. Women with a smaller bust measurement starting with an A cup need special support while exercising so as to avoid potential tissue damage.
With every movement you make, your bosom moves with you. This stretches the skin, which in turn loses tone, potentially leading to stretch marks and even sagging breasts. With a sports bra, the breasts are protected from physical impact, and this in turn protects the connective tissue. Furthermore, a good-fitting sports bra minimizes the risk of posture problems and pain.
The vigorous bouncing up and down of a heavy bosom may also cause tension in the neck musculature. In turn, this may result in headaches, jaw pain and even vision issues.
Regular bras simply aren't able to protect your breasts from impact as well, neither are they designed to deal with sweat, since the material is not generally breathable and does not stretch.
Your sports bra needs to fit well and not slip when you move, it should be comfortable as well as breathable.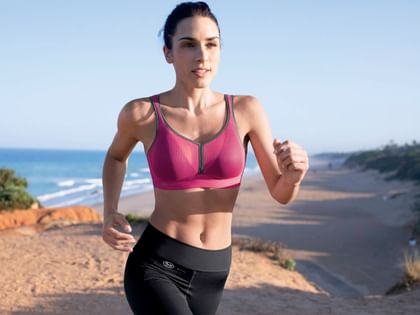 The right size
For your sports bra to give you the best possible support, it is essential that it fits well and is the right size for you. Your normal bra size isn't necessarily the right size for a sports bra, while many sports bras are only available in standard sizes XS-XL. With that in mind, there are a few simple tests and exercises you can do to find the sports bra that gives you a perfect fit.
Raise your arms
If you raise your arms and the chest band slides up at the same time, the sports bra is too big.
The Jump Test
Jump up and down a few times. If your breasts bounce too much or the jumping even causes pain, then the bra is too big. If your bosom is squeezed too tightly on top, it means the bra is too small.
The Mirror Check
Ideally, the point of your breast should be the same level as the center of your upper arm – this applies to small as well as larger breasts.
Bend forwards
In front of a mirror, bend forwards. If you can then see inside your bra, it means it is too big. If your bosom is compressed too tightly, the bra is too small.
Needless to say, neither the chest strap nor the shoulder straps should cut into you. You should be able to slide two fingers inside the chest strap, indicating it is neither too loose nor too tight. Tip: If your sports bra has a hook & eye closure, you shouldn't have to use the last eye to begin with, but preferably the one in the middle or the first. After time, the bra will give a little.
The classic sports bra has cups and is often cut similar to a regular bra. However, the cleavage is higher, the shoulder straps are wider, often comfortably padded and sometimes also crossed in the back. The sports bra should not have a deep cleavage, otherwise it won't be able to prevent the breast swinging upwards. Especially women with a larger cup should take advantage of a classic sports bra, since a top with integrated sports bra or bustier provides too little support.
The question as to whether a sports bra is better with or without underwire support, is entirely up to you and how sensitive you are. The important thing is that the bra fits perfectly, so that the wire neither pinches nor cuts into you.
Sports Bra Support
When talking about sports bras, we differentiate between 3 different levels of support:
Low Support:
Sports bras with low support often have a chest strap that isn't quite as strong, along with somewhat thinner shoulder straps. They are ideal for low-impact sports, such as: Yoga & Pilates
Medium Support:
Sports bras offering medium support should have a stronger chest strap as well as wider shoulder straps, perhaps crossed in the back for reinforcement. They are ideal for sports involving higher intensity, such as: Fitness, hiking, skiing, ski touring, biking, Nordic walking
High Support:
Your bosom needs significantly more support in sports involving lots of running and jumping, for example jogging or tennis. Wide shoulder straps and a firm chest strap provide you with a more stable hold.
The right care for your sports bra
It's best to wash your sports bra on a gentle wash cycle at 30° up to a maximum 40°C. You will provide it with even better protection if you put it in a laundry net, fasten the hooks and use a special sports laundry detergent, e.g. Holmenkol Textile Wash or other gentle detergent.
For the sake of your sports bra as well as the environment, please avoid using the dryer or fabric softener.
Medium & Low Support sport bras