What do ski racers do in summer? They ski, of course! We meet two of the greats.
When the Alpine skiing tour comes to an end in March each year, it's time for the TV channels to take a break, but there's no respite for ski racers like Sam Maes or Stefan Brennsteiner. As soon as one competition is over, it's time to prepare for the next one. After all, as they say in professional skiing: "The World Cup will be won not in the winter, but in the summer."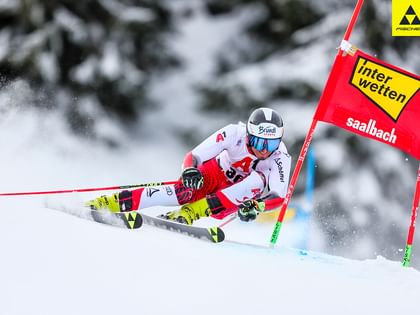 Sam Maes
And that's why someone like Sam, a specialist in the giant slalom and slalom who is 21 years young and was born close to Antwerp, never really takes a break. One week of holiday, one week in Belgium – which he represents in international competitions – a few PR appointments, and then the curly-haired athlete gets back into condition training. In high summer when others are enjoying their holidays by the beach, Sam and a few likeminded pals head to glaciers around the globe. The Global Racing Ski Team is considered the best private team in the world. For Sam, it represents a benchmark for how his performance measures up. Yet he also points out: "The better you become, the more difficult it gets for smaller nations, because they simply don't have the resources." The Belgians are not quite as far away from winter as the Jamaican bobsled team right now, but Sam has lived almost his whole life in Zell am See. He continues to compete under the Belgian flag, but in Pinzgau he has both the mountains on his doorstep and a kind of unofficial support team in the form of Bründl.
Manni Rogetzer, Hans Hofer and Fabian Stiepel, the ski, ski service, and ski boot experts, offer a professional ski and race service that is almost unrivalled in Austria. For Sam, they may not replace a trainer or the service staff that are so crucial in high-performance sport, but they are a valued port of call for all the Belgian's needs both great and small. Sometimes he urgently needs racing wax; sometimes he's bothered by pressure points in his ski boots; sometimes the tension in the skis has gone. There's always something. Last season alone, Sam went through 16 pairs of skis. Notable successes like a 12th place at the World Cup in Kranjska Gora or three bronze medals in the junior skiing championship take their toll. Sometimes, however, the lad just needs a bit of a lift, explains Hans, someone with whom he can take a look at why something didn't go so well, what the problem was, or simply talk shop. For Sam, who is a budding business engineer, it's a stroke of luck to have this quality and experience close by, he says. For around 200 days a year Sam lives out of a suitcase, trekking from hotel to piste and back again with his team. His new trainer has taken him from being a technically skilled skier to a ski racer, and a good one at that. "A trainer on the mountain, a friend in the valley," is how Sam describes him. So how would he describe Manni, Hans and Fabian? How about: friends in the valley, fans on the mountain?
Stefan Brennsteiner
It's hard to imagine what it's like to see through the eyes of a ski racer, beneath his helmet, behind his glasses. At the finish spectators will generally only see the image of a breathless but happy racer, and even more frequently that of a perplexed, exhausted competitor. Throughout Stefan Brennsteiner's still young career, the image has frequently been one of someone stricken with pain. He has already achieved a great deal in his 27 years – winner of the European Cup in the giant slalom, for example, and almost always a regular among the top 50 in the past World Cup season. Nevertheless, one can't help but wonder what he might have achieved if his ligaments and his knee had held out all these years. When you meet him, he is a fit , grown man, a member of the Austrian Ski Association's A-team and as such still one of the best ski racers in the country despite all the problems. Or is it perhaps because of them? Have the injuries perhaps even made him stronger? Stefan says: "Of course I do have doubts about whether I should keep going back on the mountain, but I still feel that strong passion and I believe I haven't yet shown everything I'm capable of."
The Association stands by its athletes, as does Bründl, which supports the racers as primary sponsor. Stefan has become more cautious with regard to his goals. "But", continues the native of Niedernsill near Kaprun, "within one to two years I see myself being at the top in the world." What does that mean exactly? "Among the top three," says Stefan, who is keeping fit these days with condition and strength training before heading to Patagonia in southern Argentina for his first training runs. He is preparing for the coming season with his four-man giant slalom group, part of which involves runs on the Kitzsteinhorn. "That helps us get better." And, as if belatedly answering the question of whether his setbacks have made him stronger: "I can already claim to have come back stronger after my injuries." The important thing is that the body and the technique fit together, then comes the material, and then the mind, he explains. Now all he needs is for his health to keep up with the pace.