Everything you need to know about the right sports watch
Watches with ingenious systems that accompany and support you during sports and throughout your daily life.
Sports watches are as common nowadays as grains of sand on the beach, yet there are some major differences between them. They are ultra-fashionable and more popular now than ever – justifiably so! In this report, we tell you about the basics to look out for when choosing the right watch for you. Whether you do sports as a hobby, are a top-flight athlete or simply someone wanting to gain greater body awareness, these watches are a valuable asset for everyone!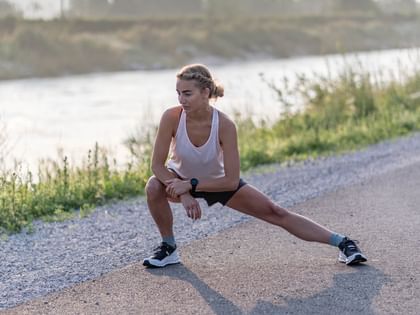 You can use these watches to measure the distances and vertical gains you have covered, your heart frequency, calories burned, your current training condition, number of steps, time spent relaxing, sleep patterns and much more. Some models now let you listen to music, pay at the ticket counter or even make a phone call. Designs range from A to Z, be that sporty, elegant or classic, the choice is yours. In terms of price, based on function and features, there are major differences. Since Bründl Sports mostly carries Garmin watches – which are the clear leaders on the market – this article focuses mainly on them. This brand is guaranteed to have the right watch for everyone.
Overview of Models
Garmin Forerunner 55
This model is the perfect entry-level watch if you are looking to lead a more conscious lifestyle. It is mainly intended for people who enjoy exercise, especially walking and running. Furthermore, the watch is very practical since, compared to other models, it is very small and fits the wrist nicely. This sports watch features an always-on color display, making it possible to read data easily even in strong sunlight. Yet another positive is the long battery life since the watch does not have a touch display and thus saves energy (10 days without a problem). The controls involve five buttons around the edge of the watch. As for functions, it measures your steps, pulse, sleep quality, stress level/relaxation phases, along with menstrual tracking for women. Naturally, it is also compatible with smartphones and the associated Garmin Connect app. There are a few disadvantages: It does not include an altitude function, Garmin Pay, music storage or blood-oxygen sensor.
Garmin Venu 2
Now we come to a more sophisticated watch – the Venu 2! "Your style, your fitness, your world" – this is the slogan of the Venu model. Whether listening to music, fitness tracking, smart notifications or Garmin Pay, this model wants for nothing. In this case, design comes clearly before fitness, meaning that this is very much a lifestyle watch. Notwithstanding, it offers a virtually flawless package of sensors and functions for health analysis, though these go into less detail than the Forerunner or the Fenix. It also includes a step counter, GPS, heart-frequency and oxygen-saturation monitors, sleep analysis and much more. Other popular features include animated training, a modern touch display and large music storage capacity. This watch is perfect for ambitious recreational sportsmen and -women looking for a combination of health data, design and modern tools.
Garmin Fenix 6 Pro
We have now reached the top category, presenting to you the Garmin Fenix 6 Pro. This model is an all-time favorite of experienced athletes especially! We should immediately draw your attention to the special Power Glass, which recharges the watch, despite its already quite remarkable battery life (120 h), while it is being used from the ambient sunlight. It likewise features a dynamic pace display, which takes the elevation profile, climbs etc. into account to tell you precisely how much you will need to perform. It also offers route and variant suggestions since it boasts its own navigation system. The TopoActive Europe Map provides offline navigation, display of over 41,000 international golf courses, plus 2000 ski area maps worldwide with piste information and levels of difficulty. For mountaineers, the watch measures the incline, distance and elevation gain of the mountain. The watch is waterproof to 10ATM, meaning it is suitable for swimming, snorkeling and high-speed water sports, but not for scuba diving. Thanks to its versatility, quality and stability, the Fenix 6 Pro is your perfect companion!
How to use your watch correctly
During sporting activity, it is important for the watch, as well as the chest strap (if provided), to fit firmly and not slide around, thereby avoiding inconsistent data. Aside from the many advantages, a sports watch may also have a few disadvantages. On the one hand, it motivates you to slip into a pair of sneakers, but on the other, you may tend to lose a sense for your own body. You run to a certain point, your pulse is monitored, but the watch doesn't allow you to measure the benefits of taking a break or value your own subjective perceptions. That's why your body should always play the leading role and you need to listen to it. The sports watch should merely provide additional support and give you a means to record data.
In conclusion, it is important for us to mention that you will definitely not be left alone to deal with your new sports watch! Our trained employees will adjust everything for you in the store, so that you can get started immediately. Whether music, Apple Pay, personal data etc., you will be fully equipped and well informed. If something stops working, our specialists are there to take care of the problem for you or send the watch in for repairs. For the coming winter season, for alpine or cross-country skiing, ski touring or jogging, the right sports watch is always a great Christmas gift and an excellent fitness investment. Do something good for your body and begin the wintry months with a sense of added joy and lightness – that's our motto, and we hope it is now yours, too!