Stefan Brennsteiner - SKI SEASON 2021/2022
A look back at a dynamic, successful Ski World Cup season
Once again, for giant-slalom specialist Stefan Brennsteiner from Niedernsill this was a World Cup season full of highs and lows. Aside from his best career result, a second-place finish in the giant slalom in Kranjska Gora, and a team gold medal at the Olympics, he was also forced to deal with a bitter elimination in his quest for an individual medal in the Olympic giant slalom. Stefan was kind enough to give us some insights into this season's emotional rollercoaster ride. This year also saw us extend our personal sponsoring agreement with him. We are really thrilled to continue such a successful collaboration!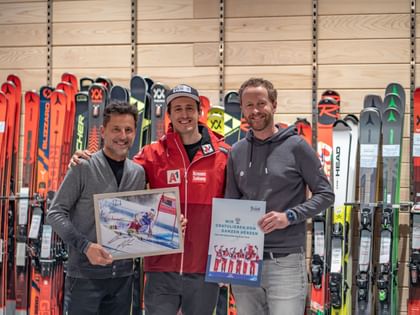 Stefan, let's begin with an important question – how are you doing? Are you in a good place, how are your energy reserves now the season is over?
I have rarely finished a season as fit as I am this year. Of course, you always have to cope with a little exhaustion after the season, but I was able to recharge my batteries completely during my vacation down in Sicily. Physically, I managed to complete the season without niggling injuries, meaning that I can start summer training on a whole different level and I don't have to invest valuable effort in dealing with specific problem zones. That said, my focus is on strength and endurance training to get me in the best possible form by August. The fitter I kick off my season, the better, naturally. And to achieve that goal, we are looking at a workout program at the Olympic Training Center in Innsbruck as well as customized blocks of training here at home.
That sounds very positive and it's good to hear! So, tell me a bit about this last turbulent season. How were the Olympic Games for you? A real rollercoaster ride, right? You were second after the first run in the giant slalom – but then, in the second, you were eliminated on your path to a medal. How did you do in those first few hours afterwards?
I have very positive memories of the days I spent there, I felt really great. Everything was perfectly organized and there were no negative experiences worth mentioning. Of course, the sporting part really was an emotional rollercoaster! In the first training sessions, I felt in top form physically and mentally, and the equipment was fantastic. I knew that, if I performed on the day, I had a real chance to compete for a medal. And that thought took some of the pressure off me. I knew, now's the time to deliver. In the start house before the second run, I almost wasn't nervous. In fact, I had to deliberately build up my nervousness to generate the extra tension I needed. But at the same time, I also tried not to make the race seem overly momentous. But then, I made that really dumb mistake. I was probably thinking one gate too far ahead and got the left turn wrong. That DNF really hurt for two, three days, mainly because it seemed like the entire Olympic Village was slapping me on the back and feeling sorry for me. But you always have to put stuff like that into perspective – it is "only" skiing after all. That's also why our success in the parallel team competition later was enormously important for me. It meant I could come home with a whole different vibe. It was much more relaxed and fulfilling, being able to leave the Olympics with a gold medal around my neck.
You should be very proud of yourself, Stefan! Are there other races that left you with special memories or that you would like to tell us about?
It's impossible to give you a blanket answer to that question and it's really hard to say. Of course, I have all my races stored in the back of my head, though it's more the feeling, rather than the race details, that sticks with me. Like when you start the second run in a good position with a positive mindset, and you get a green light as you cross the finish line, like in Kranjska Gora. When everything comes easy and is in perfect sync. The immediate euphoria is huge and that's the memory that lasts.
I really like how you described it! But how come things went so well for you towards the end of the season? Do you need some lead time to get in the right flow?
The month between Adelboden and the Olympics was important for me. After getting eliminated in the giant slalom in Adelboden, we did some intensive analysis, followed by very good training. Everybody, including the service guys and trainers, put together a plan and followed that plan as closely as possible. At that point, I got faster and more stable from one race to the next. Ultimately, it was a trigger in my head that had been blocking me. It was all mental. I'm 30 years old now, I've been racing for a long time, yet sometimes I still manage to forget what I should be focused on and where my weaknesses lie. Once something is clear in my brain, I can put it into practice on the piste immediately. But I do have to have it in my head first! Mostly, the main issues are not having complete confidence in your ability to handle the course and having a weak mental attitude in general. For the most part that happens when the equipment is not 100% ideal for the conditions, little technical problems begin sneaking in and you're not standing on the ski perfectly. And that's precisely what we were working on in the month before the Olympics. Back to basics.
Kranjska Gora was a complete success and brought you your best World Cup result to date! Plus, your whole family was there. Can you describe your feeling as you stood on the podium?
Yes, it really was very special and touching. During the medals ceremony and the interviews especially, it wasn't easy to stay serious with the family there cheering nonstop in the background. But all of those spectators just added to the euphoria and the great atmosphere.
Now as we sit here in Kaprun at the end of our interview, I just have one final question for you. What does your home region, the Pinzgau, mean to you? Is this where it all began?
Yes, as you say, Pinzgau is my homebase. Apart from family and friends, who provide you with a true sense of "home", there are also some places where you feel completely relaxed and at ease. Places you can escape completely, be surrounded by nature and enjoy a sense of total freedom. No other place lets me feel the way I do in the Pinzgau. That said, I hope I'll soon be able to return to my roots.
Sponsorship agreement extended for another year
We are particularly pleased that we were able to extend the sponsorship contract with Stefan for another season.
"Stefan has also given us many great emotions and goosebumps moments this winter. He has put defeats and failures away in an impressive way and towards the end of the season he showed again that he belongs to the world's best giant goal skaters. We are very proud that we have been able to accompany Stefan on his way as head sponsor for six years now," said Christoph Bründl.
"I'm really looking forward to having Bründl Sports by my side next winter as well. With their open, human nature, valuable mental support and expertise in services or sports equipment - the Bründl Sports sponsorship is much more than just an ordinary sponsorship for me. I feel really comfortable and in good hands," says Stefan Brennsteiner.