THE SUSTAINABILITY TASK FORCE'S FIRST YEAR
LOOKING BACK:
Twenty-four scouts from all sections of the company – one mission: to integrate the Bründl Sports sustainability vision (bruendl.at/b-green) into life in the company and move it forwards. To make a contribution together and assume responsibility – everyone, everywhere: That's the motto of the Task Force and Sustainability Manager Angelika Duckenfield. We spoke to Angelika.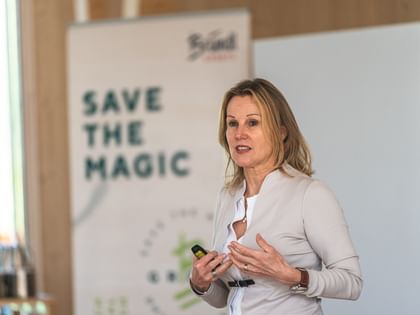 May 2021 was a very special month for Angelika, since it was then that the Bründl Sports Sustainability Task Force was founded. Volunteers from all the relevant sections of the company heeded her "call". They want to work together to give sustainability strong roots in the company, advance it, develop new ideas, and motivate and inspire people in their respective departments to follow suit.
How exactly this happens can be described, according to Angelika, by one word that is also the solution: integrated. Sustainability affects all sections of the company, which is also why there is no separate sustainability department that addresses the topic in isolation. Each and every staff member is part of this strategy and makes his or her contribution in their own departments. In this way, sustainability becomes a living part of the Bründl culture and is given strong roots deep within the organization.
The so-called scouts, meaning the members of the Task Force, meet and discuss what measures need to be taken and what progress they are making, and then report back to their respective superiors in management.
OUR TARGETS THROUGH TO YEAR-END 2024
Reduce the CO2 footprint by 20 %
Reduce the overall waste accumulating in the company by 15 % (incl. suppliers, logistics, and hospitality)
Reduce energy consumption by 10 %
Organize one take-part activity for the staff and/or customers each quarter
Push the pedal on impactful social commitment, such as donations, sponsoring, and staff contributions
Each management meeting then examines the sustainability road map with the overarching ESG targets (Environmental, Social, Governance). It's the Task Force's job to make certain that sustainability is integrated into practices pursued in all sections of the company and in all hierarchies.
To this end, a digital platform has been put in place, where every staff member can upload ideas on a more sustainable future at Bründl Sports and evaluate progress made to date. Since the launch of the Task Force, 120 ideas have been submitted, Angelika reports.What project did Angelika find especially gratifying? Above all, the flagship store – because it was designed as a Green Building incl. ASBC certification – and its "Weitblick – Lounge. Rooftop. Bistro", which is 100% committed to the topics of regional, seasonal, and organic, represent another key milestone, Angelika suggests.
She also lauds various measures initiated to reduce waste, for example projects with suppliers to get them to deliver goods without plastic wrapping, or on the circular economy, e.g., expanding the Bringer Bonus scheme. She also believes that such invaluable partnerships as those with Caritas, POW, RespACT, or KEM are crucial for ESG.
Installing drinking fountains in selected stores that offered customers fresh spring water free of charge in reusable cups or to refill their drinking bottles was a great project, she continues, involving a modest investment and great commitment, and it was realized extremely quickly. As a result, in winter 2021 more than 5,000 plastic bottles were avoided. "We support our customers in their purchasing decisions with a special coding system, our B-Green label for especially sustainable brands," Angelika narrates. Qualifying for the label involves a complex, fact-based matrix assessment, and in many cases the requirements exceed the statutory stipulations.