E as in Electrifying
Werner, the Grainers, and Bernd, who earns his living as a photographer and ensures that the Bründl magazine is made up of more than just words - all have a new passion, for which a shop like the Bikeworld in Kaprun is partially responsible: bicycles with electronic-power assistance - in a word, e-bikes. Here, they relate what drives them.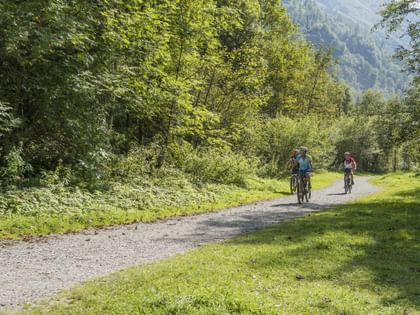 Werner is cycling. Whenever the weather is good, the Saalfelden resident jumps in the saddle. For five years, between 50 and 100 kilometres daily. Sometimes it's up to the high pastures, then along transport or commercial routes to the surrounding villages. Today, for example, he's on his way to his granddaughter in Niedernsill.
The Grainer Family also cycles, just yesterday again, a "mere"130 kilometres.
Bernd put a good ten times that distance behind him, which he still feels in his bones. Together with three friends, he cycled from Stuttgart to Majorca, a 14-day trip, for a good cause.
Werner, the Grainers, Bernd, all have one passion for which a shop like the bikeowrld in Kaprun is partially responsible: Bicyles with elecrtonic-power assistane, in one word e-bikes.
Normal bike riding was not possible anymore
After a fall, I started having hip and knee problems.
But I'm not the type to sit on the sofa. So the e-bike was just right for me. Since then, the pain is gone, and I again have the mobility I'd lost through my limited freedom of movement. From Saalfelden to Kaprun is about 30 kilometres, but, as you can see yourself, I'm not exhausted at all. Why do I choose to come? I feel like I'm in good hands here, whether it comes to buying things or the service. The employees are very friendly; there's always time for a chat.
From mountainbike to an e-bike
The Grainers were diehard mountain-bike riders. But over the years, Christoph was no longer able to keep up with his Claudia.
So he changed to an e-bike. Only: "Suddenly, my wife had trouble keeping up with me", Christoph relates. The solution was an e-bike for his wife as well, a fully specialised variety. "In the beginning, I was sceptical", says Claudia. "Today my old bike just sits in the corner". With and without electric drive — those are two different sports. "It's like running and Nordic walking", according to Claudia. And what does son Hans-Peter think of his parents' enthusiasm for e-bikes? He can't yet say all that much about it, he professes, though he allows himself to appear with one for the photograph. His mother Claudia qualifies: "Well, you did borrow your father's several times to take a joyride". Meanwhile, the father goes into raptures: "The riding comfort is terrific. I even bought myself a second battery so I can go even farther". Where? Naturally to Bründl, and not only because of the proximity. "The staff is well trained", the family claims. "They have everything, and when they don't, they order it".
How did you get this absurd idea?
We didn't want to fly to our holiday destination but to make a trip that we'd never forget.
And why with the e-bike?
With a normal bicycle, we wouldn't have been able to make the trip, at least not in two weeks.
How did you prepare for it?
We chose suitable e-bikes, planned our route, cycled a few hundred kilometers and did yoga.
You also had a social mission.
Yes, one of our group is in contract with a foundation that takes care of traumatised children. So we advertised for sponsors. At the end of the trip, an impressive 15,000 euros were collected.
Did you or one of your companions ever think of quitting?
There were one or two aches and pains, but no one ever thought about quitting. In Barcelona, we even got little melanchony, because we knew that we'd almost reached our goal.
What sticks in your memory?
The intense experience of nature, constantly changing impressions. And meeting people who became friends during the trip.
Demand is frequently raising
It started for us three years ago. Since then, demand has been increasing steadily. About two-thirds of our sales now involve pedelecs. The customers appreciate the comfort and fun factor — and that they suddenly can get anywhere. We adapt to that by expanding our services under the motto "body scanning", in order to be able to offer each customer a suitable model. We also follow the market very closely, to see which accessories related to the motor and batteries makes sense. There are going to be further improvements, for example, in the performance to-weight ratio. Other exciting developments to watch are how new features will affect display and software solutions and how smart components will be integrated, also the non-electric ones.