A helmet - Your life insurance for cycling
It ruins your hairdo, doesn't go with your outfit or you conveniently leave it at home: the bikehelmet.
The best argument against every excuse is: a bike helmet can save your life. But only, mind you, if it's on the cyclist's head. Statements dismissing the advice to wear a bike helmet are quickly silenced if you take a look at the transport statistics for 2017. In Austria, there were around 6,700 reported (!) cycling accidents. A vehicle was involved in half of all the accidents. And in three quarters of all the cases, the fault was the driver's. However, according to a general estimation, every fifth cycling accident occurs without external influence. That is reason enough to wear a helmet for every single bike ride–no matter how short.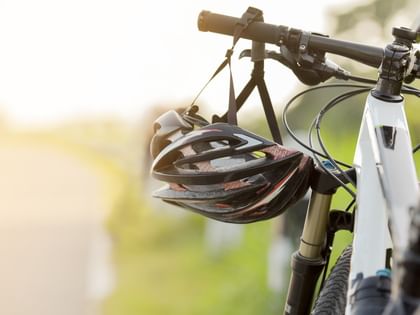 Determining is the quality! Ten years ago,it was still difficult to find a bike helmet to fit particularly small or large heads, but now this is no longer an issue at all. There are high-quality helmets for children of every age, for men and for women. Leisure cyclists and occasional cyclists should wear a helmet just like professional cyclists.
Why? A bikehelmet cannot, of course, prevent the accident itself, but it can prevent its consequences. If you hit your head when you crash, the helmet absorbs the force exerted. This can prevent injuries or reduce their severity. A bikehelmet can save your life or protect you from the severe consequences of a crash.
Don't be a fool
Wear a helmet
The range of bike helmets available is huge, and there are, to some extent, considerable differences in appearance, quality and price. So what do you really have to bear in mind when choosing your helmet? Here are the most important tips to help you:
The helmet must absolutely comply with the European safety standard, indicated by the label DIN EN 1078 (CE). If it is alsoTÜV-tested, then that's an additional advantage.

In the front section, the helmet should have lots of ventilation openings with mesh inserts so that no insects come into contact with the scalp.

The helmet must fit your head shape. Different models fit a round or longish-shaped head. A tip: the helmet fits correctly if it does not wobble when you shake your head, even if the straps are not fastened.

Sufficiently and easily adjustable straps ensureasnug fit. The straps should be tight,butsit comfortably aroundthe head.

The helmet must suit your type of cycling: depending on what you are planning, look for city helmets for everyday life, sporty models for downhill biking, mountain bike helmets or head protection that includes modern smart technology that automatically calls the emergency services in the event of a crash.

The weight of a helmet is around 300 g; children's helmets are about 50 g lighter, and compact sports helmets can weigh as much as 500 g.
Helmet material and visibility
Ambitious cyclists with the right outfit don't shy away from bright colours, whereas leisure cyclists usually go for dark, subtle helmet colours.
However, you should bear in mind that light, colourful bike helmets attract considerably more attention, particularly in road traffic–visibility ensures safety! For dark models and at night, reflectors that are stuck on or incorporated and, in particular, LED-flashing lights ensure that cyclists are noticed quickly. The helmet material also plays a decisive role with regards to safety: you should find hard shell helmets, where the inner and outer material are not glued together but attached, to be state of the art in terms of the workmanship, even if the price is slightly higher.
Durability and helmet maintenance
After about five years, a bike helmet has done its duty. Material fatigue, rough handling and continuous use will have had an effect on it. What is important is that in the event of a crash, the helmet must be replaced immediately. This is because invisible micro-fissures form and if another crash occurs, the helmet can no longer absorb the energy and transmits itdirectly to the head. Continuing to wear a helmet that has been in an accident is therefore completely pointless and even dangerous.
A bike helmet is a low-maintenance companion in and of itself, but it should be stored in a dry place that is not too warm, and certainly not in the sun. Heat and sunlight cause adhesive joints to come apart, and the material to fatigue. The pads in the inside of the helmet can usually be removed and, just like the straps, they are best washed gently with a hand detergent.
The helmet itself you can rinse out, under the shower, for example. What is important again here is that the helmet should be left to dry in a shady place, not in the sun. Incidentally, on cold days, you can transform your bike helmet into safe and comfortably warm head gear with a hat underneath that has integrated ear flaps.
The perfect fit
Helmet adjustment by a professional
If you are buying bike helmets for the first time, you have special sports requirements or you want to buy a helmet for your child, you should always have the helmet fitted by a specialist, so that the safety of the helmet really is ensured in the event of a crash. All too often, you see children in particular whose helmet extends too low down their face or sits on the nape of the neck and exposes their entire forehead - this is grossly negligent!
Fahrradhelme bei Bründl Sports