Interview Marcel Hirschers Van Deer-Red Bull Sports
Marcel Hirscher: 67 World Cup wins, 12 small crystal globes, 8 overall World Cup victories, 7 World Championship titles and 2 Olympic gold medals. After finishing his career, he presented his new brand Van Deer-Red Bull Sports in October 2021. Exclusive and proud distributor is Bründl Sports. We asked the head of the brand for an interview.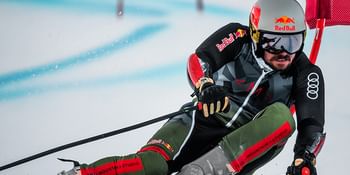 With the ski brand VAN DEER, you have set yourself no less of a goal than revolutionizing the sport of alpine skiing. You are and were famous for having the best equipment – What makes your ski so special?
That's relatively simple – we aren't driven by profit margin and we use the best materials that are currently available. Ultimately, our actual materials aren't any different than on every other ski, they are merely either used differently or in a trimmed-down form. Carbon is not used to the same extent as it is in racing, though it is the same quality of carbon. It's similar to cooking: The best ingredients generally make for a good dish. Given a top-quality cut of meat, even a guy who is not particularly gifted at grilling can prepare something that tastes pretty good. So what I mean by this example, is that it's all about the ingredients that go into the ski. Many skis are made from inferior materials, which results in an inferior product that's driven by marketing and profit margin.
Whether FIS ski, piste ski, touring ski or powder ski – every VAN DEER model is manufactured – by hand – in Austria. Please tell us a little about the small-volume development and manufacturing process.
The question we have to ask ourselves is, what does the end consumer want and how can we improve their skiing experience. When the first prototypes are ready, my job is to get out there and test the skis. We come back with feedback and we tinker away until we have created the best ski possible – and that's a process that never stops. I would never say we have the BEST ski of all time and this is as good as it gets, but it is most definitely a good step in the right direction.
What does "Made in Austria" mean for you?
A lot. At the beginning, we checked out a lot of different options and took a close look at the production facilities. It quickly became clear that we wanted a quality product from right here in Austria.
It also had a lot to do with Franz Annerer, who is the ski designer there. I have known him really well since my active skiing days – I was skiing on … for 2 years – so I really understand his craftsmanship. That was also a major contributing factor.

How long is a ski tested before it goes into production?
That varies, but if we stick to the "recipe" that we have discussed and agreed on, we get to the desired result very quickly. Just like in cooking, the preparation is half the battle. The mise en place is very important, but there are also days when we say, no, that was the wrong step and we need to start all over. Though for the most part it's very easy for me, because that's what I have been doing my whole life.
How did the cooperation with Bründl come about? Why was Bründl chosen as your partner?
Because I have always sensed and noticed the enthusiasm of Christoph. I was never particularly comfortable with publicity events because I always felt I was treated like a racer there, not a person – in other words, a PR and marketing tool. That said, I was immediately aware of the esteem as well as the obsession (… excuse my choice of words) for the sport, especially winter sports. And there are indeed businessmen like Christoph for whom that is the top priority.
What unites your vision of the future with that of Bründl Sports?
The commitment to quality! I always have the feeling that Bründl is a specialty retailer that takes its role very seriously. There is a reason people have their skis prepared at Bründl Sports and that says it all. It comes down to the expertise, not mass production or simply making the sale. I value that kind of attitude. You could see from the outset that Christoph had that special mindset when he said: Guys, I have confidence in you. That attitude was practically insane at that time because he was placing his trust in a ski that hadn't even been produced yet, and in Marcel Hirscher as a person. Nowadays, you don't often encounter people who place that kind of trust in you. For which I am extremely grateful.

How do you envision the development of your brand over the next 5 to 10 years?
To a large extent in racing, naturally. To support racing and allow it to achieve its full potential. So much about skiing has become a matter of course, that's our starting point. Commercially, the goal is to gain as many happy skiers as possible. We appreciate all feedback. In 10 years, we want to develop sales to make the sport even cooler and more attractive than it is today, even more so than the statistics are forecasting.

How will winter sports change?
The development is clearly in the direction of ski sports becoming more expensive. That said, just look at what has happened on the bicycle market. I see lots of potential to increase consumer appreciation for the value of a product that delivers the best quality. Earlier it would have been unthinkable to spend so much money for a bicycle. But nowadays, everyone understands that biking isn't half as much fun if you don't have a good bicycle. I think the trend will be towards having top skis of your very own or borrowing top skis from specialists like Bründl Sports. In that way, you will get so much more out of your holiday or your day of skiing. Quality not quantity! One thing that's really important to me personally is that we build and structure children's skis that aren't much different from adult skis, other than being built shorter. One of my most pleasant experiences was seeing a young skier, between 7 and 10 years old, slicing down the piste on this particular ski, thinking to myself, how cool is that. Of course, it is relatively expensive, but I want kids to live to their full potential and not, because of a mass-produced ski, lose their joy for skiing or miss out on it all together. That is extremely important to us!
As a World Cup winner, what's the feeling, the passion you now wish to share with others?
The ULTIMATE skiing experience, giving the customer a product, no matter what their ability level, where they say – wow, it's so much easier for me to ski with this product, and it's definitely way more fun. Communicating that passion and certainty is at the center of my thinking. Making the sport accessible to the point that people say, "wow, that's what skiing is all about". The feeling I had for years, feeling the acceleration, the confidence, the sense of having everything under control. Of course, that comes down to having the right equipment. Seeing how some poor people are out there skiing, struggling with boots that are three sizes too big along with skis that aren't right for them at all, that spurred me on – why can't we make racing technology available to everyone? In that regard, I think we are on a good path and the feedback is very gratifying. It's better to make the most out of four runs than spend the entire day slipping and sliding around all over the piste. Your thighs might be aching when you are all done, but it is definitely worth it. It's like with a sportscar – the track might well be harder to drive, but it's way more fun than riding in a limousine. So in that regard, maybe what you need to do is work a little more on your fitness ;)