Apprenticeships - how to find your true vocation
A college dropout, a cook and Austria's best sports trainee - three people who have found their true vocation at Bründl.
Proud of the upcoming generation: Trainee representative Stephanie Töltsch of the HR team and Anita Wallner, sales clerk in accessories.
Here you can read why: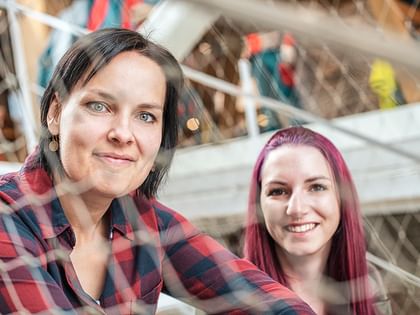 Stefan "Stef" Ronacher
18, Taxenbach, shoe salesman, Flagshipstore Kaprun
Stef was still going to school when he took a trial stint at Bründl. Then he returned to work there voluntarily and his stints included weekends. And he had hardly finished his final year at school when he got offered an apprenticeship. Today, at 18, he sells shoes in the Flagshipstore in Kaprun. That's cool, as people say in this area known as Salzburger Land. On the one hand Bründl, which has a weakness for talent and holds the tilte of "Best Training Company". On the other the young guy from Taxenbach, who made it to become Junior Sales Champion of Austria in a sales competition. By way of reward his employer gave him the money for his driving license. For Stef motivation to continue to do his best whether he is selling winter shoes, mountain boots, gloves or backpacks. He enjoys working with different people from the locals to the Arab tourists. And appreciates the many further training offers whether it's porduct training, E-learning or the many workshops outside held by the Junior Academy. And should things get boring: "Then", says Stef, "you can always move to another shop."
Magdalena Pichler
20, Kaprun, Trainee, Alpine Center Kitzsteinhorn
A-levels check, snag a university place for journalism, move to Vienna - there are worse things, aren't there? At the time Magdalena, 20 years old, born in Pinzgau, would definitely have defended her choice. But the path that led her to Vienna proved to be a dead end. Back in Kaprun, she recalled that she gets on well with people, and she is sporty anyhow. And when her mother asked what suited her she thought of Bründl. She already enjoyed shopping here as a child. The whole spirit and everything. Magdalena temped in Saalfelden, had a job in Saalbach, and finally opted for the Alpine Center on Kitzsteinhorn - on an employee salary where she began a training as a retail saleswoman specializing in sports articles. You can't get much higher than ascending the 2.500 meters by cable car every day to work. But what did Hollywood legend Samuel Goldwyn say: "Start with an earthquake and build up to a climax."
Christopher "Chri" Rautner
29, IT trainee, Service Center Kaprun
Christopher, known as Chri, initially trained as a cook. Later as a technician for printers and photocopiers he developed an interest in IT, and today he only ever cooks at home. At Bründl the man from Kaprun is doing an IT training. The 29-year old could have shortened the procedure but started from training year one. "Either all or nothing, working professionally is very important to me." The job, says Chri, is interesting, every day brings new adventures. The responsibility? Enormous. Chri has access to 1.200 technical devices such as servers, computers, tills and cash machine terminals. As a trainee - something the EDP freak finds amazing. That also means: Transpose the numbers and the whole infrastructure of the shops is messed up. Which means you need to be as focused as possible. How does he manage that? "By drinking a lot, airing the room, getting up and stretching." And sport? "I am a typcial IT geek", grins Chri and adds: "I'm probably the least sporty person at Bründl."
Speed-Dating and Buddies
A traineeship at Bründl Sports
Fall in love At Speed-Dating trainees tell students what it's like at Bründl. Then they can get to know each other, the new ones want to know what their colleagues are like. After the swath of application letters comes the selection of trainees. And things get going from 1 September - with a week at Bründl Junior Academy and the first day in the shop, the Big Bang in the cinema, along with parents and management.
Support During their three-year training every trainee is accompanied by three persons they can contact directly: a buddy, generally a young colleague who has completed their training; a trainee coach in the shop who deals with organizational issues; and the actual trainer in the guise of the shop manager.
Learning In addition to attending vocational college twice a year trainees do a one-week stint at the Junior Academy. At the get-together Bründl trainees not only get to know each other and the corporate culture but in a total of five modules also learn everything about products, their use in practice and are given communication and sales training.
Goodies During the three-year course, trainees move from one department to the next, for example for Textiles, to Hardware to Rental. For those who do well there are rewards such as shopping vouchers or ticktes for a concert plus an overnight stay. Presented at the final dinner with trainee's parents.
Dinner for all After the exams there is a great celebratory meal, again attended by parents and the entire management team. The best stories from the three years make the rounds.
Top Job Bründl trains retail sales staff and office administrators, operating logistics specialists as well as IT specialists focusing on thechnology. And naturally most of the trainees find their dream job here, especially as there are many other jobs in the services.
Early stage Bründl encourages trainees to take on responsibility. For example, youngsters are allowed to manage a branch, grow into complicated tasks early on - and apply for more responsible tasks after their training, say as shop manager.
Role models There are always trainees at Bründl that launch a meteoric career there such as Herbert (HR Head), Manni (manager of the Flagshipstore in Kaprun), Tom, Marketing Head for many years or ... (your name could be here).