Power-packed - memories of Hans Bründl
A great deal has been written about HANS BRÜNDL, who established BRÜNDL SPORTS in 1956 and was, for a long time, the Group's senior manager, in this magazine, for one thing. Today, we are leaving the task to other people. And have asked a few of his associates to share their memories of this ski rental pioneer who died in 2019.
"Hans Bründl was a lucky fellow indeed, a "Hans in Luck" as the German fairytale has it, and for many of his decisions he went with his gut feeling"
His son-in-law Alois Moreau, his grandson Maximilian Bründl, his first employee, Friedl Birnbacher, and one of his first apprentice, Manfred Rogetzer, talk about their memories.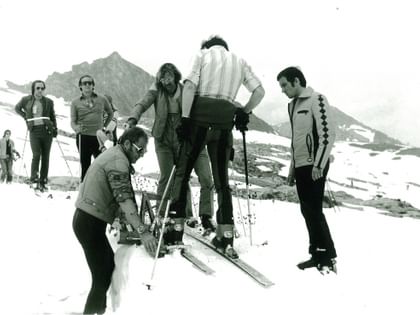 Johann Bründl
1926 - 2019
Distinguished businessman Johann "Hans" Bründl was: A master cartwright, a ski-maker, a bus operator, but most of all a visionary sports retailer, because he was the man who first started a ski rental company in Kaprun, thus laying the foundations for the company's success. His startup in a garage in Piesendorf existed even before there were any garages in Silicon Valley. Hans Bründl was the proverbial lucky guy, and for many of his decisions he simply went with his gut feeling. But in all of this he needed other qualities too, qualities that tend to get overlooked when things are going well: Courage, faith and appetite for trying out new things – and the most important of all rules – the ability to start out small.
There are two stories, one that is well-known and one that is only reported. Both describe the person that was Hans Bründl extremely well. The first one goes like this – in Aufhausen Bründl discovered a ramshackle house, one which the cows had trampled through, that's how dilapidated it was. Later, it became the family estate and this restless businessman's last residence. Later, the hamlet between Zell and Kaprun became one of the area's best residential districts. The other story, the reported one, goes like this – after Columbus had discovered America his table neighbors reproached him, saying that anybody could have done that. Thereupon, Columbus asked those present to stand a boiled egg on its point. Everybody had a go but nobody succeeded. When it was Columbus' turn he dashed the point of the egg against the table and it stayed standing there, slightly dented. When the others protested that they could also have done that, Columbus said: "The difference, gentlemen, is that you could have done it but that I actually did it."
With Salt and Pepper
Alois Moreau, Hand Bründl's son-in-law and co-owner of Moreau in Kaprun
"I trained to be a mechanic and I wanted to open a car repair shop with a colleague of mine. But then I joined Hans Bründl's sales operation when he opened his first sports store in 1967. 'Come on Lois, perhaps we can do it together,' he used to urge me. And who could resist him? He did have a certain charm about him and at the same time he was quite a quiet chap and was good at bargaining. His character helped him to get people on his side, for instance, when we were looking for a new location. Or with staff development. That Bründl gene has continued to develop right up until the present day. Of course, we didn't always agree, and sprinkling a little bit of pepper onto things is something that needs to be done. And when I went into the fashion business myself and his daughter came with me, he wasn't too pleased about the fact. After all, she was an important pillar of his own business. But he wasn't one to hold a grudge. And, sports and fashion have always complemented each other very well. Hans often came to see us, we used to sit here on the patio for hours and we would talk about business and the development of tourism in Kaprun. He was a visionary, but a doer, as well. One of his brothers-in-law had a tractor and he said to him he should have it converted so he could prepare the ski slopes. Hans manufactured deck chairs and sleds, he opened a B&B, and he offered holidaymakers from the region coach trips. And then his mobile ski rental business took off. We drove the ski equipment to the skiing regions and picked it up one week later. And the rest is history."
Skiing lends you wings
Maximilian Bründl, Hans Bründl's grandson, is studying economic scienes in Innsbruck
"We used to live in the same building, I on the upper story and he on the ground floor. I often went down to have lunch with him and his wife after school; afterwards we played a game or went out into the yard. He was particularly fond of the swimming pool and it was difficult to get him out of it again. He started fixing it up when the first rays of sunshine broke through, even if the weather turned nasty again in April. One day, he was already approaching 90 at the time, he came up to my apartment and asked me for a Red Bull. I like the stuff which is why I always have a few different flavors at home. He insisted on having a Red Edition, one in cranberry flavor. I gave him the only can I had in that flavor but not without asking him why he wanted that particular one. He said: 'Then I play golf much better and feel bursting with energy.' One week later I happen to go down to his place again and could hardly believe my eyes. On the table stood a whole pallet of Red Bull Cranberry."
The Suit
Friedl Birnbacher, one of the company's first employees and chief buyer until he retired in the end of 2019
"Hans Bründl originally came from Piesendorf. His six children were born in the family home near the church there. And the garage where it all began is also there. He constructed his first ski, the Schmittenschi, down in the cellar there. He later discovered that the ski rental business was the business for him, the one that brought him to Kaprun; to the place which is still the company's head office today. I joined Bründl in 1973. I found Hans to be a down-to-earth person, one who was prepared to make compromises. He was incredibly popular and his intuition when it came to his employees was good. As purchasing manager, I was often out on the road with him, in the car, and he used to tell me about his life. How, when he was 17 and penniless, he walked from Ingolstadt to Kaprun. Something else that impressed me was how he dealt with the kind of changes that weren't up his street. When, after seven years, Christoph, the managing director, had our flagship store in Kaprun replaced by a new one, Hans said: 'I guess you know what you're doing.' The way he treated other people was also impressive. In Saalbach a woman was injured skiing and Hans drove her home without any ulterior motives, to Tegernsee. On the way back he then had a car accident. Another story that shows what kind of person he was – opposite our flagship store was a fashion retailer who was always reporting us to the police since, because of the ski rentals we were open on Sundays and other goods changed hands at the same time – the shop closing laws were different then. But what did Hans do? One day he went over and bought himself a suit there. We were never reported again after that."
A Manni for all seasons
Manfred Rogetzer, was one of the company's first apprentices. He is now manager of the Flagshipstore in Kaprun.
"When I joined Bründl as an apprentice in 1985 a colleague took me to see Hans Bründl and ushered me in with the words: 'There's your new apprentice!" Basically, he had said it all. During the three years of my apprenticeship the boss often called me up. Not only did I have to help out in the storeroom, I had to shovel snow in the winter, too. The chains of command were always short with us. Our big boss was always full of plans and new ideas, at the same time, he was always very concerned about what we invested in and how. He was very concerned about savings. Wintertime, around Christmas-time, was always high season in the ski rental business. When, one day, we ran out of rental poles the big boss gathered up his own private poles. We then set about putting together the same lengths of ski poles and ski shoes. So that the poles would at least be similar and we could rent them out. When, in the afternoon, we had provided all the rental customers with skis, shoes and poles, we felt a great sense of community – and had one of the best day's turnovers in the season."