Perfect ski undergarments for cold days
Tips for your new functional undergarments
Our experts have the best tips when it comes to buying new functional undergarments. If you want to keep warm and active during the winter, it is all a matter of fit, functionality and materials.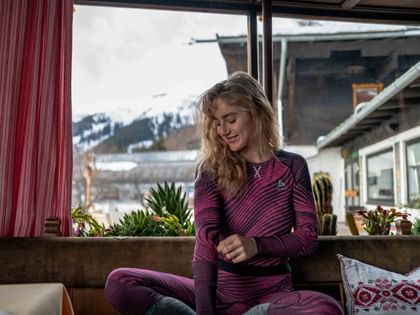 Why should you wear special ski underwear?
Primarily, you wear ski underwear under your ski suit or outdoor clothing in order to stay warm. However, functional undergarments have lots of other advantages that will help make your active day more pleasant. One of the most important aspects is how well your underwear wicks away moisture. Thanks to special materials, the shirts and tights you buy are able to absorb moisture and sweat, then allow it to evaporate. The benefit is clear: The moisture doesn't stay in the material and against your skin. Furthermore, ski underwear also prevents tightfitting ski outer garments from rubbing against your skin for far more pleasant clothing wearability in general.
What materials are used to manufacture ski undergarments?
The new generation of functional undergarments is manufactured from synthetic fibers and blended fabrics, though products made from merino wool and cashmere continue to be very popular. Ultimately, the actual fabric composition all comes down to your personal preferences. Due to its many positive characteristics, merino wool is growing in popularity. It insulates well, doesn't scratch your skin, wicks away moisture, inhibits odors and, above all, is completely natural.
That said, thermal underwear consists for the most part of synthetic fibers. Synthetic fibers such as polyester, polyamide and spandex dissipate moisture really well. The sweat is wicked away and the skin stays dry. Cotton, on the other hand, would absorb the moisture, though not wick it to the outer layers of clothing. What you are left with in that case is a wet shirt which feels colder and more unpleasant over time. In contrast, merino wool doesn't store moisture, wicking it to the outside instead, thus keeping the body pleasantly warm and dry.
Damen Funktionsunterwäsche Blackcomb Eco von Odlo
Die erste Schicht ist deshalb so wichtig, weil diese für den Feuchtigkeitstransport sorgt.
What is the best way to take care of my functional undergarments?
Most ski undergarments can only be washed at 40°C – in this regard, always read the manufacturer's label carefully. Synthetic underwear needs to be treated differently to underwear that contains wool. So that the garment retains its original form for as long as possible, avoid putting it through the spin cycle. Ideally, avoid using a dryer altogether, hanging the garment to dry on a washstand instead. To neutralize bacteria and unpleasant odors, we recommend using a laundry detergent designed specifically for functional undergarments (e.g. Holmenkol Textile Wash).