ON THE TRAIL WITH ADIDAS TERREX
Marie tested the trail-running products of adidas Terrex: uphill, downhill, through mud, over roots.
Slowly but surely, the snow in the mountains is melting and springtime is coming to life. Nature has a lot in store for us. Spring colors, fresh green meadows, alpine summits with breathtaking panoramas. Those who have had enough of the gray daily routine, will likely want to enjoy the silence of nature and restore their depleted energy reserves. And that works best if you also have a faithful companion. Meaning? The new adidas Terrex trail-running gear, of course. Aside from being equipped for whatever comes your way, the comfort, quality and design are also second to none. I was given an opportunity to test the new collection and I would now like to share my experiences with you. On your behalf, I went ahead and tackled a number of trails, longer and shorter, on different surfaces and in various weather conditions.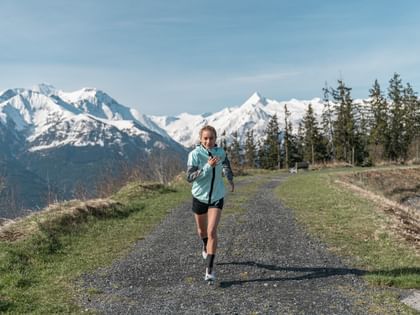 Training gear I really looked forward to using! Not only because adidas Terrex offers top products in terms of quality and technology, but also because the new collection is especially focused on the environment. In these times of extreme climate change, adidas committed itself to manufacturing products out of Parley, i.e. recycling and repurposing sea plastic. Sadly, in addition to the oceans, you also find huge amounts of trash on the hiking paths and around the summit crosses here in the Pinzgau, clear indication, in my mind at least, of a lack of humanity. But be that as it may, let's return to adidas, a manufacturer that emphasizes sustainability and innovation, which is a definite positive.
Since I was given the opportunity to test a complete outfit, let me begin at the bottom with the most important component – the shoes:
adidas Terrex Speed Ultra trail-running shoes
The first thing that catches your eye, even before you have had a chance to put on the shoes, is their striking design. The mixture of a medium pink, shocking pink and turquoise is a real head-turner, for men as much as women, impossible to overlook. The "new normal", so to speak, ultra-trendy. After pulling on the shoes, you immediately notice the light weight and somewhat narrower fit. That said, the toe box is a little bit bigger in order to provide plenty of room when running downhill. For me personally, with naturally more slender feet, ideal. Generally, I need time for my feet to get used to new shoes and I quickly get blisters – but with these shoes, everything fit from the very first moment, no blisters, no pressure points.
As you begin running on the trail itself, you are immediately impressed by the high-energy-return cushioning technology known as Boost (thermoplastic Polyurethane particles, which are compressed to create lots of small foam pillows), as well as the outer sole, which was actually inspired by gravel bikes. The tread on the sole isn't too pronounced, allowing you to run well on flatter surfaces as well. On asphalt, I just keep rolling right along and clearly feel the spring in my step. However, if you only plan to run on asphalt and not on trails, this particular train-running shoe will definitely not be right for you. The tongue and heel area are somewhat padded to provide greater comfort, whilst the minimal weight feels more like a second pair of socks as you run. Even on longer runs, the shoes still feel comfortable. Here are a few more facts about these shoes:
Uppers made of mesh with abrasion-resistant reinforcement
Perforated tongue
Cushioning Boost technology and Lightstrike midsole
Reflective print
Weight: 245 g
Outer sole made of Continental rubber
My Tip: With these shoes, you should absolutely wear the adidas Terrex Techfit Primegreen Traxion crew socks – they fit perfectly, don't slide, and they won't pinch or cause blisters.
adidas Terrex Trail-Running Apparel
Let's continue with the clothing. Which included the new TERREX Parley Agravic All-Around Shorts. Here, yet again, there is an emphasis on sustainability and use of ocean plastic . The pleasantly tailored pant, not too tight, also consists of a moisture-absorbent material guaranteeing dry wearability. Particularly practical: the small zipper pouch at the back of the waistband, as well as two mesh side pockets for stowing your keys or mobile phone. Something I miss in a lot of sports pants – a major positive. At first, I couldn't figure out the loops on the back of the pant, though it turns out they are intended for poles. For me personally, they are irrelevant since I don't use poles for running. That said, these pants aren't only good for running. I also like to wear them when I go hiking. The cut is perfect for my figure: not too tight, not too loose, super fit and, thank goodness, non-transparent.
Also a must, needless to say, is an airy, lightweight tank top for extended runs. The sustainable TERREX Parley Agravic Trail Running Tank Top can barely be felt on your skin and, because it is so colorful, is a super match for the shoes. Furthermore, because the graphic is superimposed on the garment at random, every shirt is quite unique, as you can clearly see on the pictures. I personally find the bright colors very refreshing, a welcome contrast to the traditional black. Even if you sweat heavily, the shirt doesn't stick to your body and the sweat smell stays within tolerable limits;) For me, there's nothing worse than when a functional shirt already begins to stink even after a short workout. Incidentally, this tank top was also made from Parley Ocean Plastic – recycled plastic trash that was collected on the beaches and in coastal regions before it was able to reach the ocean.
On those rainy days when you are still unable to resist the call of the mountains, you also need a good jacket so that you are able to return home reasonably dry. Which is a role the TERREX Agravic Pro Trail Running Rain Jacket masters to perfection. Not a drop reaches your skin, yet the triple-layered material breathes actively for complete comfort. Thanks to the ventilation slits on the sides, you don't get too hot while running, yet the rainwater stays on the outside where it belongs. A dedicated pocket on the back allows you to stow away the jacket along the way. The jacket also features reflectors so that you will be clearly seen in the early morning or evening. Something I like especially, is the fact that it is cut a little shorter and doesn't drop all the way down to my upper thighs, which is often the case with other jackets. It is super waterproof, but not as stiff as many other rain jackets.
If you are tackling a longer run, the jacket is also designed to provide extra room to accommodate a rucksack or a vest underneath.
I had great fun testing the new collection. Anyone who wants to add variety to their trail-running experiences, definitely won't be disappointed by this gear. Bring a little new freshness and color to your life, for an even more carefree experience.
Incidentally, the great adidas TERREX products are available at the following Bründl Sports shops:

Have fun checking out the gear for yourself,
best wishes,
Marie.