Adidas Terrex Athlete Sven Koch on the trail with Bründl Sports
Interview with Sven and our Bründl Sports employees
Heading out into our mountain world with pro athlete Sven Koch were Thomas Vorreiter, René Gorissen and Christian Cantonati (employees of Bründl Sports). On this occasion, they were running on a beautiful route that took them from Kaprun and over the Maiskogel to the Dreiwallnerhöhe, returning via the Klammsee. The perfect combination of forest, mountain and water.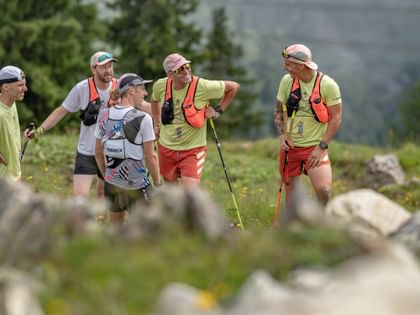 Bründl about the trail:
Thomas Vorreiter, René Gorissen und Christian Cantonati
How did you feel about the route personally – is it more suitable for newbies or experienced trail runners?
Christian: "I would say, for moderately experienced runners. For complete beginners, it's probably a little too steep and too far. It takes you along a forestry lane to a narrower forest trail, and for the most part it's neither too steep nor too dangerous. Give it a try, you can handle it – the scenery and the nature definitely make it worthwhile. For me, it's a potential training route, and I have to say, I really enjoyed it!"
Were there special highlights for you personally, for example an especially beautiful section or lookout point?
Thomas: "Let's state up front, the entire experience was fantastic! But the Dreiwallnerhöhe with the summit cross and the amazing views of the surrounding mountain world, that really took by breath away. As we ran along the ridgeline, it first got quite foggy, then gradually cleared and we were in full sun. It was awesome experiencing how the grey turned a beautiful blue."
Can you give me a few facts and figures about the route?
René: "The Bachler Trail is a beautiful climb, taking you through forests and alongside beautiful streams. In total, we needed around 1 h 45 min for the full tour including 720 vertical meters."
Interview with Trail Runner Sven Koch:
When it comes to equipment, what is an absolute must and what's optional?
The right shoe is essential! It should take into account the surface and your weight. For example, based on your needs, either a high-cushioned road shoe or a lighter-weight material for competitions and technical trails. The shoes must fit your feet perfectly. Your clothing plays an equally important role, of course. Especially when it comes to the pants, make sure they are the right length so they don't chafe your legs. Also factor in the functionality, whether or not they have integrated pockets for accessories or loops for poles, for example. I mainly wear a rucksack in summer, on longer trails, to carry drinks, a bite to eat, a first-aid kit and a rescue blanket (especially if I am running in a group).
What do you eat before, during and after training and races?
If it's just a casual training run, I don't really need to pay attention to what I eat too closely. But getting enough to drink is essential, especially on hot summer days. Before a competition or interval training, I tend to eat simpler foods that are easily digestible, such as toast. That provides you with energy without giving you an upset stomach. On the days beforehand, you need to eat basic carbohydrates, and after intensive training, foods that are high in protein.
Where do you get together with fellow runners and do you enjoy running in a group?
That really depends on where I am. In Innsbruck, for example, they have a community run on Wednesdays, and everyone's invited. Or you simply use social media to message someone. For the most part, I really like running in a group, not to optimize training, simply to socialize. Trail running is a community, and it's really important to share your personal experiences with the others. Almost everybody is very open, inviting you to run with them, giving tips, and definitely never leading you behind on the trail. Just ask and give it a try, that's the motto.
What physical demands does this sport place on you? Is it comparable with regular running on the street?
Many people see trail running the wrong way. They imagine they'll be able to scamper up and down the mountain from one day to the next. That said, it's not as if you run nonstop. Sometimes, you simply walk briskly across the mountainside. In my opinion at least, the most important thing is to set out and try it for yourself, rather than train for weeks ahead of time in preparation. When you are trail running, you quickly become aware of your limits, so then you simply shift down a gear or two.
Is there a special running technique we should be aware of?
A few basics are important, which are simply explained and understood via YouTube and social media. You also pick up lots of tips chatting with fellow members of the trail running community. When you are running the mountains, for example, you should never extend your knee completely, keeping it bent so that the thigh muscles can absorb the impact. It's also important not to land on your heel, but rather on the midfoot or ball of the foot, which puts less strain on the joints. If you have any physical weak spots or have suffered an injury, I would definitely go to an orthopedist or speak with a specialist in sports medicine. I recommend beginning slowly, since no one every dropped out of the sky as a professional runner and ran 150 kilometers their first time out on the trail.
How often and how intensively should a person train?
A rule of thumb says, never increase the amount of training by more than 20% compared to the previous year. Last year, for example, I ran 200 hours, meaning this year I shouldn't train for more than 240 hours. That's an approximate guideline for you. In my first year, I ran around 40-50 kilometers per week, plus I also varied the type of sport, including cycling, hiking etc. The idea behind that is to ensure you don't take your training in a single sports discipline to an extreme. If you go pro, naturally, you have to dedicate more time to training. You also need to pay attention to strength training to keep your muscle groups in balance. Moreover, stretching is incredibly important, even if that's advice you really don't want to hear. Stretching alone makes it possible to increase your distance by as much as 10 extra kilometers per week. From a certain point, it's no longer about adding to your running workload, but rather about allowing for better regeneration (stretching, sleep, good nutrition, etc.).
What role does mental fortitude play in trail running, in your opinion?
Mental training is hugely underestimated and is incredibly important. For my part, before every race I take a precise look at the course, the starting and finishing points etc., and play out the entire race in my thoughts. Yet another aspect: On average, I run 15 hours a week and I don't listen to music while I run. People, in general, find it hard to cope with their own brain. That's why I have taught myself, over an extended period of time, to get completely into myself with the help of the monotonous running motion. That's one thing I really value about running. The complete silence, no overstimulation, far removed from the hectic outside world. Basically a form of meditation
Profile Sven Koch
Born 1999
Student
Originally from the Allgäu – lives in Innsbruck
Since the beginning of 2022, on the adidas Terrex trail running team
Specialist in distances up to ca. 20 km
2022 results:
1 st place Innsbruck Alpine Trail Run Festival (15 km)
2 nd place Stuiben Trail (12 km)
3 rd place Tschirgant Sky Run (16 km)