Backstage at Bründl Sports
Cool shops, great equipment, a strong focus on people - that is BRÜNDL SPORTS. But Bründl relies on its protagonists in the background.
"Is anybody there? Hello? He-e-e-l-l-o-o-o!" Anyone who walks the length of the Logistics Centre at Bründl in Kaprun with its rows and rows of high shelving is reminded of one of those escape rooms. Surrounded by towering stacks of boxes and palettes human beings shrink to bonsai size. Not necessarily an advantage if you are looking for your colleagues, the little pixies in the background. If it is not close to downing tools time then here just outside Kaprun on the exit for Kitzsteinhorn things are done on a very large scale. Without the several thousand square meters taken up by this new building for logistics and merchandise management the 30 shops between Schladming and Ischgl would quickly look as empty as Venezuelan supermarkets. Above all in the main season from the end of August to Christmas the Logistics Centre is "Kaprun's biggest fitness studio," as Anton Riedlsperger will explain later. An attractive image that gains credence when you consider the figures of chief logistics specialist Martin Lederer: an average 150 palettes and 800 boxes are turned around here each week, between 10,000 and 25,000 articles wait to be labelled. And there are 10,000 spaces for boxes and 1,200 for palettes for temporary storage. In a single day alone in September over 200 palettes and almost 300 boxes arrived. At the end of this week in September over 60,000 articles had been labelled. No less than 16 articulated trucks and many parcel services wait in front of the building for up to an hour before they can be unloaded. Inside, the two dozen or so staff set about unpacking the goods as quickly as possible, sorting and recording them so that they can continue their journey to the shops: per cable car, haulage firm, and Bründl's own buses. Put it that way and the 1,400 pairs of skiing shoes that were being priced during our visit were like a warmup exercise for the fitness trainers from Logistics.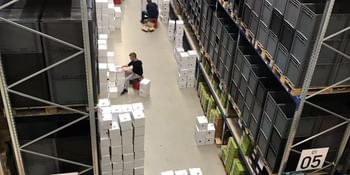 In a single day alone in September over 200 palettes and almost 300 boxes arrived. At the end of that week over 60.000 articles had been labelled.
Everything's ok?
Anton Riedlsperger, Section Head, Central Warehouse
Sweating? What's that? Anton Riedlsperger is not someone who is easily perturbed. Not even if 300 pallets are delivered at once; and not by the fact that there is only really space for 100 in the Logistics Centre. It is here that the native of Saalfeld has worked for two years, managing the central warehouse. Before that he sold ice hockey accessories. Sooner or later everyone who enjoys sports seems to end up at Bründl. "We are a great team here," enthuses Anton. And that extends to leisure time. We write each other a WhatsApp and go off to do sports together. And the work in the warehouse? "That," says the 40-year old, "is a challenge." You can't really plan any day because there are different goods arriving all the time. That sometimes means up to twelve people working through until the evening sorting out parcels and boxes. Bründl has recently gained a couple of shops bringing the total number to 30.
So, things remain exciting and challenging.
And Action!
Manfred Rogetzer, Manager of the Flagshipstore, Buyer & Seller of Hardware
Manfred here, Manfred there, he can turn his hand to anything. Until midday he works as a buyer and in the afternoon he can usually be found in the flagship store in Kaprun. Because hardware is his passion and every season he orders around 28,000 pairs of skis and 25,000 pairs of ski boots for sale and rental customers trust him blindly. They appreciate it when someone helps them make a decision. Manni, the man who makes things possible, who gives the customers greater freedom. It's enough if one person wracks their brains after all. "You have to get involved with every shop," says Manni, who takes his colleague's feedback every bit as seriously as that of his customers. Now there are stores in the city and in the village, there are some in the mountains and naturally there is the rental, that does not make his curating work any easier. The trick is to have the right goods at the right place in the right amount and at the best price. And it is also a truism for a buyer that you live your life forwards but only when looking back do some things become clear, which benefits the new season. However much you rely on analyses, sometimes good old fashioned virtues are needed: Daring for example, a good instinct. And so Manni, who has worked at Bründl for 34 years, sometimes orders a skiing glove that can be opened and closed without using your hands. Or a diamond studded ski. "What is important," says Manni, "is that I can lie in my bed at night and sleep peacefully." Yet peace is not his thing at all. The man who began as a young trainee is still highly motivated. "I always need to be busy," he says. Perhaps that is why he is still involved in the company's own racing department and clubs. Naturally, he also keeps an eye on the trainees in the main store. And it pays off: "He already talks just like you," someone said to him recently.
The secret millionaire
Barbara Walch, head of payroll accounting, assistant to the management
When Barbara is not in the office, she is on a training programme. "Labour law, holiday legislation – something is always changing," says the lively blonde. Together with her colleague Jessica Flucher she deals with the complete payroll system for up to 540 employees at peak periods and has done so for 22 years. Paying out salaries and overtime, calculating bonuses, getting the documentation ready for the authorities. "I am the check list and planning woman," says Barbara about her job. Even though she handles tens of millions every year it is by no means only about bare figures. When Barbara tells an employee about a funding programme which they can take advantage of or a colleague is stumped by their tax return and grabs the phone in desperation – there is always a human element in Barbara's everyday work. And the woman who moved to her job from a different area says: "Tell me your story and I'll tell you how I can help."
Thanks for the flowers!
Carina Prasil, Visual Merchandiser
When we met Carina at the Sinnbar in Bründl's flagship store in Kaprum she was still Ms. Gold. Then there was a ceremony at Kaprun castle. Now the name on her business card is "Prasil". When you see how the interior designer and visual merchandiser decorates window displays and sales rooms, however, then her maiden name is more apt. Anyone who has been shopping knows what a volatile business instore communication is. It is always a matter of creating incentives and presenting goods in a contemporary way. Add to that customers keen to spend money and who constantly pull apart the carefully arranged decorations. Or the colleagues who plunder half the display area in search for certain sizes and accessories. And so, Carina sometimes has to step in to re-clothe half-naked figures and place them in the right light. Since training here, she has very much been the company's visual calling card for four years and is always involved in discussions about creative product presentations. The latter feature the company's own graphics; the material may come from second-hand stores and fairs like Ispo or Maison & Objet in Paris. There was a lot of praise for the opening in Salzburg in a rustic chic look with a real alpine hut. The boss thanked her by speaking on her mailbox at night and followed up with flowers the next day. By that time Carina was already on the go again, looking through the shops and taking care of her flock.