How to grow at Bründl Sports
Learn to express yourself, to live the real You - major topics that get approached anew day-in day-out at Bründl. About a company that puts the personalities of its staff above all else.
There once was a chief who had three sons. One day the three men set out to climb to the summit of the Holy Mountain, something that until then no one had achieved. Yet one after the other they failed and turned back. "At the moment, the mountain has conquered us", they said. "Which leads me to conclude that you were too short to succeed," said their father. "No, Dad," the sons answered, "but while the mountain has already reached it full height we are still growing."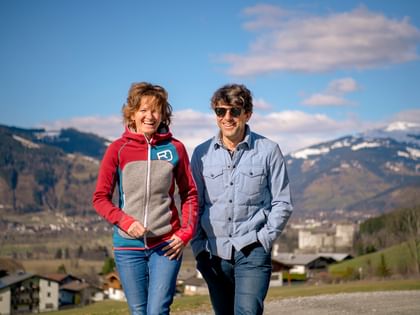 For almost 30 years now, Bründl Sports has been investing in its staff's personal development, be they trainees, specialists or managers. Anyone who chats with Elisabeth Rendl and Bernhard Bründl, as the leading figures driving the Bründl Akademie, will soon realize: The company shies no effort to support its staff en route to the summit at the top of the world. This explains why personal development here has zero in common with a traditional course of training or advanced training. Which is not to say that there is no binding curriculum, and one that leads in stages to success. That said, evolution at Bründl also means: Learning from experience, ignoring rigid concepts, and freedom from indoctrination, albeit with lessons that address the heart and the mind alike. No one is forced to do something, but everyone can enjoy doing it. Everything depends on the extent to which someone is prepared to advance themselves and grow into a position of responsibility.
The Bründl Akademie, known as a 'school for life', provides the space required, it is the oxygen tent that prepares you for higher things to come. The route to the summit is no linear process, comments Bernhard, but a journey that can at times mean moving in circles. There are people who come and go, who break off their time at Bründl to go off and study, who drop out, or return to Bründl, who change department in the company – sometimes more than once. Every one of them has all sorts of talent and skills. The question is which equipment enables whom to do what, meaning who do I deploy where and how?
Elisabeth tells the story of a staff member who was in Sales but first really blossomed as a merchandiser. Following things closely, listening closely, taking part by watching closely – that, too is part of the job of those running the academy. The idea of being in Sales from your apprenticeship through to your pension is very outdated. On the other hand, Bründl not only has staff on the sales floor or at the point of sale; with a payroll of at present 540 at 30 different hubs, new jobs invariably arise; you need think only of the Service and Logistics Centre in Kaprun, where IT, Marketing, HR, Accounting, Procurement and Merchandising are all located.
»We have many different professions and even more roles that need filling«, Bernhard says. Which is also the reason, he continues, why staff now stay with a company longer again; because they see that they can develop, that they can make an impact, irrespective of their position. »And that«, says Elisabeth, »is what we consider sustainability to mean.«
Sustainability, that's the other major topic relating to personal development. Sustainability also in the sense that talented persons become multi-talented. No one objects, Bernhard notes, if you are simply a shop manager in the winter, and a member of the Support team in the offseason period. Or not just a shop manager but a trainer. Or, yet another example, don the role of sales trainer for short training sessions in the store. Because the staff like passing on their knowledge, as both Elisabeth and Bernhard emphasise. The result: additional incentives at work, especially as Bründl has now in sourced central functions such as the entire Hire business. The platform is mainly driven by staff at Bründl, "with all the brains and passion of our IT staff, Rental experts and the und Marketing department," says Elisabeth.
What becomes clear is that you don't always need outside consultants or trainers if your own staff are much closer to the product to be sold and in tune with the feedback from customers. As does something else: Thanks to its size and muscle, Bründl receives a huge variety of applications, Elisabeth comments. If during recruiting someone asks "Why Bründl" then the collective reply is: "Everyone here has a really great time and massive opportunities for personal development."
After some 30 years word has really gotten around.