Interview with Stefan Brennsteiner
For 29-year-old Stefan Brennsteiner from Niedernsill, the Alpine Ski World Cup 20/21 season was extraordinarily successful. With two third-places and two additional top-5 finishes, Stefan secured 6th place in the overall giant-slalom rankings, putting him right in the midst of the world's elite racers.
Here at Bründl Sports, we couldn't be happier to accompany Stefan, yet again, as helmet sponsor for this coming ski season. We asked the giant-slalom specialist to sit down with us for an interview to discuss the upcoming Olympic season.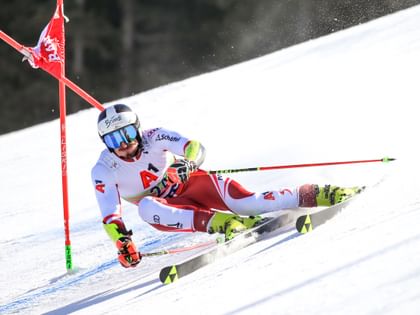 What, in particular, did you focus on in summer and what was the most important thing for you in summer training?
Nowadays, I have to pay more attention to body since, for an athlete, I am beginning to get on in years. You concentrate a lot on staying healthy and try to begin the new season completely fit. That said, extreme performances are on the backburner, whereas your health is constantly a top priority.
What were some of the things you focused on last year in ski training, considering just how well things worked out? As far as technique, was there some aspect you paid even closer attention to?
We simply kept to the same path we began in the spring. After the season, we took a bit of a step back and intensified our work on technique. The closer we get to Sölden, the more we will concentrate on the actual racing.
You talk about a path that began last year and that you kept following this year. Can you give us more details?
After an injury I suffered in 2020, I realized I would have to change something. I took a really close look at my technique, but I also altered a lot of small things when it came to my training plan. As for technique, I consciously focused on reducing my vertical motion in favor of more horizontal motion, also skiing more over my hips so as to take the stress off my knees.
Where did you go for summer ski training?
We stayed in Europe once again, including training blocks in Saas Fee (Switzerland) in August. In September, we were then given an opportunity to train in PItztal, where the conditions were very good everywhere.
You will begin this season in the second World Cup grouping. What expectations do you have going into the new season? Is your approach different to previous years?
Actually, our approach to this new season will be quite similar to recent years. I want to continue to develop personally and work my way to the front of the starting list as well as up the rankings, so that I eventually start in the top seven. In years past, the goal was always to qualify for the second run and start with the lowest possible number so as to improve a few places. At the moment, I feel I am capable of skiing to a top-place finish, so I am going to continue working hard towards that goal.
Do you have any special goals in mind? Perhaps a podium finish, or is the goal more, as you suggested, to keep improving?
Of course, podium finishes are often at the back of your mind. But having a specific result as a goal is something that has never worked for me, as I have mentioned several times before. I try my best to keep that thought out of my mind. The more successful I am at doing that, generally the better the results at the end of the day.
Have you continued to develop your mental approach? At the end of last season, it definitely seemed like your head was in the right place.
When you focus on tensing individual muscles, that's already a form of autogenic training, it's all mental. I also believe that that first day in Bansko was very productive. The feeling that I finally belonged on the World Cup circuit and could compete with the best was a very important aspect of my mindset, too.
What are you especially looking forward to going into the new season?
First of all, I am really looking forward to kicking things off in Sölden. Then of course, this winter also revolves around the Olympic Games in Beijing. Nevertheless, there are also two races in Alta Badia this December that we haven't had in this form before. That will be a major highlight as well. It would be an absolute dream if I were able to qualify for the Olympics in the giant slalom or parallel competitions. If everything goes to plan, I would love to start in both of those disciplines.
The race calendar is similar to last season, though different to the years prior. What are the major factors that have changed in that regard?
As I said, we begin in Sölden and then have a parallel race in Lech Zürs. The overseas trip to Beaver Creek and Lake Louis is canceled, unfortunately. Only the speed athletes will be competing there this year. We will be participating once again in Alta Badia. The final race before the Olympics will be Adelboden at the beginning of January. In general, the FIS have changed the race calendar a bit so that there's more balance between the speed and technical events.
Hopefully, spectators will be allowed again this year. With that in mind, which hill do you look forward to the most, or was it simply not a big deal for you last year?
There are definitely pros and cons. Of course, it was convenient for us as racers since we knew we wouldn't have to contend with traffic jams on the way there. And afterwards, we were gone within three minutes. In Sölden, for example, we are normally stuck in traffic for at least an hour. But those are the only positive aspects from last year. In a finish area that's packed with spectators, if you have achieved a good result, you can let out all those pent-up emotions, and that's an incredible feeling.
When you first stood there on the podium, I can imagine you would have wished to have thousands of spectators in the finish area with you, right?
Yes, it would probably have been even more emotional for me. But I had waited so long for that moment, I honestly don't know what might have happened if my emotions had been heightened even more than they already were.