industry partners and sports retailers find synergies at Bründl Sports Sustainability Days
Bründl Sports, one of the leading sports retailers in Austria, hosted the inaugural Sustainability Days at the Bründl flagship store in Kaprun on June 29th and 30th, 2023. Six sports retailers and eight sports brands, a total of 26 partners, gathered around the table to jointly develop solutions for a more sustainable future in the sports retail industry. Over the past years, Bründl Sports has been actively engaging with its partners to optimize supply processes, promote a circular economy, and emphasize waste reduction.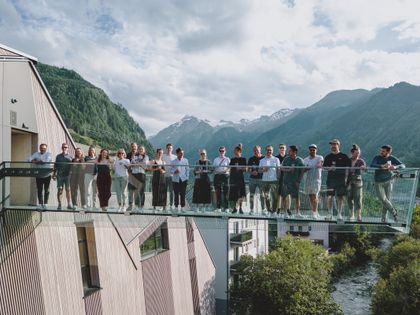 The invitation was accepted by many prominent names in the industry. Renowned brands such as Atomic, Fischer, Salewa, Dynafit, Ortovox, Peak Performance, 2117, Endurance, Athlecia, and Meindl were represented, as were esteemed sports retailers from Austria and Germany, including Engelhorn, Sport Schuster, Sport 2000, Sport Conrad, Gigasport and Premium Sports Group. Together, they sought synergies towards a more sustainable future in the sporting goods sector, defining solutions and goals through intensive work sessions.
The multi-stakeholder event provided an ideal platform for open exchange of experiences, best practices, and innovations in the field of sustainability. With the aim of reducing environmental impacts in the sporting goods industry, various topics were discussed, including the use of more sustainable materials, plastic-free delivery, energy efficiency, circular economy, and social responsibility. In line with Bründl Sports' integrated sustainability approach, the company's management team fully participated in the meeting.
Through the Take Back Pilot Project from Atomic, Bründl Sports has already saved 5 tons of residual waste in the current fiscal year. The project aims to produce brand-new ski boots from the recycled materials of old ski boots.
The event provided participants with an opportunity to stay informed about current trends and developments while forging valuable connections. The first day got underway at the in-house restaurant, Weitblick, and concluded befittingly with an organic, seasonal, and locally sourced dinner. In between, there was a guided tour of the Sustainability Path at the Bründl flagship store, followed by participants breaking into working groups to define synergies, solutions, and concrete next steps.
Notably, all participants engaged in open, motivated, and honest discussions on the core topics, unanimously confirming their willingness to continue collaborating. As one of the partners aptly put it in a nutshell, "Sustainability is not a destination, but a journey!".
Since 2018, Bründl Sports has been measuring, reducing, and offsetting its carbon footprint to the best of its knowledge, promoting sustainability within the company, and urging its partners to adhere to sustainable guidelines. Partner agreements include the Bründl Sports Supplier Code of Practices, which serves as the foundation for sustainable collaborations, ensuring that essential criteria and requirements for sustainable business practices are met.
More information about the Supplier Code of Practices and Bründl Sports' comprehensive sustainability commitment can be found at bruendl.at/b-green.
Get involved & contact us
Together for a sustainable future. We look forward to receiving your ideas, feedback, suggestions, either by telephone or email.