Produce Local - ORTOVOX High-Tech Production
Tradition, Customs and Craftmanship
ORTOVOX relies upon regional products from the local Alps. The MERINO FLEECE CLASSIC KNIT HOODY and SWISSWOOL CLASSIC GLOVES are produced according to this philosophy: High-quality Swiss wool is spun into fine yarn in Austria's Lech valley and knitted in Styria. Ancient machines process the wool delicately, resulting in functional and unique products.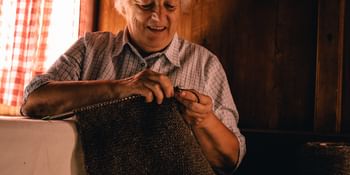 WE BELIEVE IN TRADITIONAL CUSTOMS, REGIONAL WOOL AND CRAFTSMANSHIP
TRADITIONAL CUSTOMS
The Wagner family has been running the WOLLE WAGNER spinning company for three generations. In the midst of the Lechtal Alps, siblings Georg and Kurt Wagner, along with Kurt's wife, process more than 40,000 kilograms of virgin wool into fine knitting yarn each year. Six tons of wool from the Swiss Alps are spun into yarn for ORTOVOX at the three-person factory. The journey from washed wool to yarn is shaped by tradition: Where once a hand spinning wheel was used, now a nearly 80-year-old machine is operating – the heart of the spinning mill. Unlike modern machines, Wagner's traditional models operate slowly. Very slowly. SLOW WOOL is the secret to high quality: Only when pure, natural virgin wool is produced slowly and gently can high-quality yarn be created.
WE BELIEVE IN CRAFTSMANSHIP
The SWISSWOOL yarn is transported directly to Styria. Herman Rabenhaupt, founder of the HERATEX company and first clothing supplier, works here: Since its very beginning in 1988, ORTOVOX has relied upon this small supplier for the production of knitted and felted products such as gloves and inserts – partly still handmade. Workflow varies depending upon the product: While the finished CLASSIC KNIT inserts arrive untreated at the manufacturers, Hermann takes the wool for the gloves home to a small group of knitters. The fingers are knitted with the aid of a manual knitting machine. Up to 20 pairs of gloves are produced each day. Finally, the CLASSIC WOOL GLOVES are felted and shaped at Hermann's without the addition of chemicals. This way the correct size and tension are achieved.
WE BELIEVE IN LOCAL WOOL
Produced by nature: ORTOVOX has trusted in wool since 1988. Born out of a pioneering spirit and shaped by our innovative strength, our first SWISSWOOL products were introduced in 2011. This wool comes from the harsh mountain terrain of the Swiss Alps, which provides an almost unlimited habitat for over 400,000 mountain sheep. However, this wool is much more than just a high-quality material for ORTOVOX mountainwear – it tells the unique story of the people and the sheep. It was not many years ago that Swiss sheep farmers earned very little money on the global market with wool due to its characteristics. The SWISSWOOL initiative was founded with the aim of saving this type of traditional alpine farming, as wool is a natural, functional raw material with manifold uses.
PRODUCT HIGHLIGHTS
FLEECE PLUS CLASSIC KNIT HOODY
Out of tradition and conviction: The MERINO PLUS LINE is characterized by its regional origin, tradition and elaborate processing. ORTOVOX uses the undyed wool of Swiss mountain sheep in the front of the CLASSIC KNIT HOODY. For this, traditional knitted inserts made from SWISSWOOL YARN are produced by HERATEX – one of the knitted-goods suppliers based in Styria.