From couch-surfing to cruising down the slopes in just a few steps: With its new rentals platform, Bründl Sports is creating quite a snowy stir. We pay a visit to its rental center at the base station of the Maiskogelbahn.
One day, when teleportation is no longer science fiction, guests will be able to beam themselves straight onto the Kitzsteinhorn mountain from their living rooms in Stuttgart, Prague, Dubai or Rotterdam. That said, in places like Kaprun, Ischgl, Zell am See and Mayrhofen, they're already one step closer to overcoming the boundaries of space and time. It was back in the 1950s that Bründl first rought ski rentals to Austria. These days, the Pinzgau-based firm is the biggest ski rental company in the Alps with more than 15,000 pairs of rental skis in 23 different rental stores. It's only logical, therefore, that it would also try to come up with the perfect beam-meup service.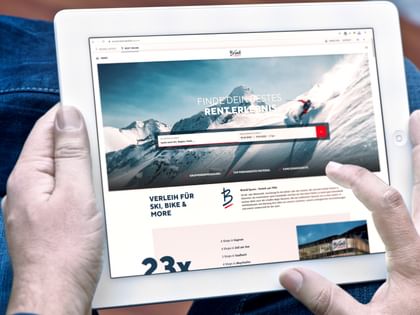 "Nur die Deppen schleppen", meaning "only fools lug things around", is the core slogan expressing the convenience of rentals, which has long since become a catchphrase. With its Magic Rent principle, Bründl Sports is now taking things to the next level, for example in its new rental centre at the foot of the Maiskogel. The Sock family - mother Birgit, her husband Harry and their children Ella and Fynn - want to get out and about on the slopes as quickly as possible. The cable car companies have invested a fair sum and are now able to transport winter sports fans from the centre of Kaprun town up onto the Kitzsteinhorn - a 12-kilometer stretch that goes from an altitude of 768 to more than 1,950 meters in just 30 minutes. And Bründl is keeping pace every step of the way. Barely have the Sock family entered the shop when the display board notifies them: ready for check-in. Needless to say, Harry, who's no fool, notified the shop of his arrival on his mobile phone.
Check-In, Scan, Boots, Skis - Most of the Rental Process is digitized.
The in-house rentals platform, which is going live in 2019, enables customers to book the ski rental equipment they need conveniently from anywhere in the world and to collect their selection in store. A quick hello from Gert Winkler, the rentals manager, and then everything is dealt with in a flash. Strictly speaking it takes just four steps in the digital realm and just one or two more in store until the family of four can start to tackle their beloved local mountain. Check-in, either while en route or directly at the terminal in the shop, scanning for the relevant body sizes, selection of the boots and, based on that, adjustment of the binding - the journey to joy is largely automated. For Gert and his colleagues, this means more time for face-to-face interaction with customers, while they in turn enjoy short waiting times, fewer fiitings and dry feet. After all, customers like Birgit need take off neither their stockings for foot measurements nor their ski boots later on. The sales staff rely on a hightech scanner, which takes just seconds to produce a three-dimensional image of the customer's two feet - and sends data such as shoe size, instep height and foot length to the central rental module known as Easygate.
The name says it all. The data are stored and remain always at hand for any subsequent rentals. The rental staff have them on their tablets and can thus select the right pair of boots with Birgit and Harry. Here too, Easygate makes suggestions - after the system has compared and reviewed the information gathered in the scan with the manufacturer data in the ski boot database - with regard to the models available in the storeroom. All the customer need now is their chosen skis - always the latest models as is usual for Bründls rental centres - and a bit of fine-tuning for the binding. Birgit and Harry are pretty impressed at how they don't even need to take off their ski boots for this. Instead, Birgit's husband casually slots his foot into a recess that is more than it seems: Here, the so-called Sizefit Caliper takes the measurements of the ski boot. Immediately the data is available to Gert at his fitting station, where he uses a clever device that looks like a futuristic wood plane to execute a few well practiced adjustments. Then the binding is fixed on the sole length stored in the database. Gert is helped with the measurement by a dummy based on the sole of the ski boot.
"What a service!", exclaims Birgit, who is delighted that her feet stay nice and warm during the fitting. And someone else is pretty happy too: Fynn, who has donned a pair of boots as gloves and is crawling through the store on all fours, gets his Economy equipment, including a helmet, free of charge since he is not yet ten years old and both parents are paying for rentals. There are more wow-moments to come. Anyone, for example, who wishes to purchase skis or boots can try them out first as rentals - and get up to two days rental costs reimbursed when they make a purchase. Plus, anyone who rents equipment for seven days will pay for just six - and can switch models within their reserved class, i.e. Economy, Premium or Superior, on a daily basis free of charge. By now all the family members are kitted out, so they bid a cheerful farewell as they head out to the Maiskogelbahn. Gert watches them go as he points out the storage facility on the first floor: heated lockers that are cleaned daily in which customers can leave their equipment overnight. How convenient, our visitor notes. Gert smiles and says: "Yes, we offer a personal touch." And a magical one, you might say.
For everyone who wants to enjoy even greater convenience
The new Expedition Shop at TAUERN SPA Zell am See – Kaprun
Guests of TAUERN SPA Zell am See - Kaprun now have it easier than ever. Thanks to the new Expedition Shop, you can easily and conveniently select and reserve your ski equipment using the Bründl Sports online terminal. And immediately receive your 12% instant online rebate! Naturally, you can also make reservations for the heated ski depot at the Maiskogelbahn valley station as well. In other words, all you need to do is ride the ski bus to the valley station and nothing will stand in the way of a perfect day of skiing full of countless magic moments!