There are very few sports that don't require socks, though socks are rarely even given a second thought in most cases.
Yet this particular item of clothing is actually one of the most important. If it squeezes your foot or causes a blister, a dream day can quickly turn into a nightmare.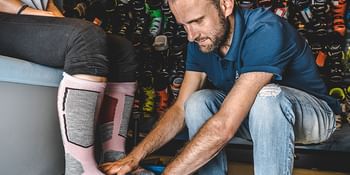 What makes a good sock
It is always important to find the right sock for your intended sport. Not every sock is right for every sport. In this regard, the material plays an important role since, in winter, you want to have warm feet, whereas in summer you want something breathable. You also need to pay attention to the size, because a sock that is too big can quickly bunch up, meaning you will continually have to adjust it. The experts advise buying the sock you want one size smaller for optimal fit.
Here's a tip: As a guideline to see if the sock will fit, you should be able to wrap the sole of the sock one time around your own fist, with the toe and heel touching ever so slightly. (Naturally, this will vary somewhat from person to person)
What a good sock has to be able to do
The correct sock will protect you from impacts and pressure, and prevent your foot from sliding inside the shoe, which might very well lead to the formation of blisters. In addition, it should give the foot additional protection by providing extra cushioning at sensitive points including the heel, toes, ankles and sole. The sock should also do a good job wicking away moisture, since softened skin is far more sensitive than dry skin. Just bear in mind, every material has its limits.
Compression socks in sports
At some point or other, everyone has caught sight of a jogger running past wearing knee socks. What's with that and, more importantly, what are the benefits?
Compression socks are basically the same as regular socks, just a little tighter, though also more elastic. They put pressure on soft tissue, simultaneously relieving pressure on veins and the lymphatic system in the legs. This facilitates and accelerates blood flow, which in turn avoids blood pooling in the legs. By means of this system, the socks boost performance on the one hand and accelerate regeneration on the other. Many athletes report that this style of sock makes their legs feel lighter and more dynamic.
Hiking socks
As you plan your tour, finding the right hiking socks is a must. With regards to this type of sock, good padding is essential in order to protect the sensitive points of the foot. It should also provide for a relatively constant temperature, able to balance out heat, cold as well as humidity.
Our tips for hiking socks:
Take time choosing the right socks and trying them on, allow an expert to assist. (If possible, bring your own hiking boot with you to the store)
Pay attention to reinforcement in the most vulnerable areas (heel, toes, …etc.).
Select a material that is appropriate to the weather and season.
Always have a second pair of socks with you to change into. *
Prior to your first hiking tour, wash and wear the socks so they feel even snugger on your feet
*It is helpful to change your socks along the way, especially if you are on a longer hike, since temperatures in the course of the day may vary considerably, you will begin to sweat and the socks may begin to cause added pressure.
Skisocks
Whether to keep your feet warm, provide good fit or avoid injuries, good ski socks always pay off.
Cotton is out, merino wool is in! This wool is one of the most popular materials for ski socks since it keeps you warm and it is breathable. That said, whenever you buy merino wool, always check to ensure that it is not "mulesed", otherwise the animals might well have suffered unnecessarily in the course of the production process.
As with hiking, it is important to provide cushioning of sensitive points. And just because the cushioning is hidden beneath the design, doesn't necessarily mean it's worse.
Often, we assume the thicker the sock, the warmer it is for the foot. But that isn't always the case, since a thicker sock also means greater pressure on the foot from the ski boot, and if that happens, the sock and/or the wool might not "work" and function correctly.
The material
Merino wool: The reason this material is currently so popular is that it manages to keep the foot warm and does not store moisture, transporting it instead directly to the shoe, keeping the foot pleasantly dry and warm. Furthermore, the wool is comfortable, provides protection as well as traction. As a "rule of thumb", the more merino wool, the pleasanter the sock, however, the faster the sock will fall apart. This is why experts recommend socks with a 20 to 30% wool content.
Spandex, Lycra or Elastane: These fabrics provide good fit and wick away moisture, simultaneously reducing odors and growth of bacteria. A blend of these fabrics is not unusual, since elastane produces a good fit, polypropylene wicks away moisture and polyamide makes the socks more durable.
Knitting process: Yet another important aspect is the knitting process since a flat knit creates a more precise fit, while a round knit produces a very elastic sock. This fits practically every shape of foot, meaning you will have fewer points of friction.
Brand recommendation
For compression socks, we recommend the brand BOOTDOC, whilst Salomon offers a wide selection of hiking socks. BOOTDOC is also recommended for running as well as skiing.