Test your hiking boots
For perfect grip and an optimal fit
You're disillusioned with your new boots after your first hike wearing them: they cause tenderness around your ankles, they rub on your heels and they don't provide enough grip on rocky surfaces. With our test areas for outdoor shoes, we hope to avoid situations like this as far as possible.
For this purpose, we have recreated various surfaces and conditions for you. For example, test your boots on:
A rocky surface,
roots or
loose chippings/gravel
How does the boot fit when you are hiking uphill or downhill? You can test this out very easily on the boot test track.
Find shops with a test area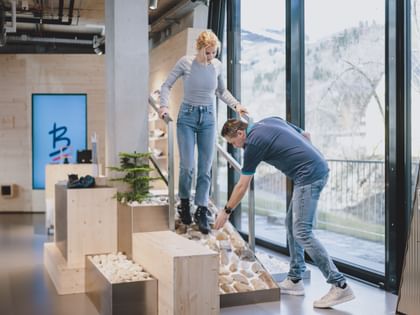 For a better fitting
Test shoes at point of purchase
Avoid pressure marks
Find your perfect hiking boots
Have you noticed on your first hiking trip that your boots don't fit so well after all? No worries. The Perfect Fit Guarantee at Bründl Sports allows you to exchange your boots without any problems after you have worn them once.
So that this doesn't happen in the first place, it is important to put the boots through their paces before you buy them. Our experienced staff will be happy to help you in making a decision and will explain to you what is important when buying boots.
You can test the boots for as long as you like. Our aim is for you to have a good feeling when you leave the shop, and for you to feel comfortable in your boots. This will allow you to climb new peaks with no trouble at all.
Images of our test area for hiking boots