Rookie of the Year presented by Bründl Sports
For the second year in a row, due to the corona pandemic the glamorous Leonidas Gala hosted by Salzburger Nachrichten had to be canceled and the gold, silver and bronze "Lions" awarded away from the big stage.
On 9 June, the time had finally come and the first awards were presented amid the fountains of Hellbrunn Palace.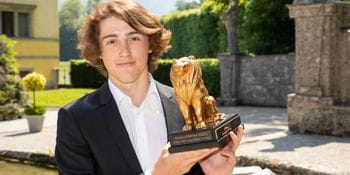 Rookie of the Year: Stefan Rettenegger
Nordic combination
As has been the tradition in previous years, the Lion for Rookie of the Year was presented by Bründl Sports. This year, we celebrated the achievements of Stefan Rettenegger as the best up-and-coming athlete. An impressive performer in the Nordic Combined, in the past season Stefan had to overcome several major challenges: his first participation in the World Cup with the "big guns" in Ramsau and Seefeld, a season conducted under severe corona restrictions – and successful graduation from the high school for sports in Saalfelden. All of which he did with flying colors!
At the Winter Youth Olympic Games in Lausanne, he won gold medals in the individual as well as mixed-team events. In the past season, he celebrated silver and bronze medals at the Nordic Junior World Championships in Lahti. In the coming season, Stefan rightfully expects to hold down a permanent place on the World Cup team.
In addition to the Gold Lion, Stefan also received a shopping voucher from Bründl Sports in the amount of € 1000.
We sincerely congratulate Stefan Rettenegger on his award as well as his sporting & academic achievements and wish him continued success in future.