Did you know... about our promise to the future?
Ecological, social & economic goals with vision - the Bründl Sports sustainability promise
Meet Bründl Sports' Sustainability Manager, Angelika Duckenfield, and Thomas Vorreiter, the man behind Marketing & Expansion. They recently sat down for an interesting chat about Bründl Sports' sustainability promise. Discover how they weave sustainability into the company's DNA and why a team approach to environmental responsibility is the real game-changer.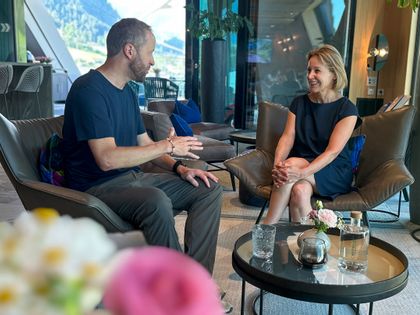 Thomas Vorreiter: Angelika, what makes our Bründl sustainability strategy stand out?
Angelika Duckenfield: Our approach to sustainability is unique in two main ways. First, it's holistic—meaning it touches every part of our business and involves everyone in the team. Second, it's integrated right into the core of our business operations, rather than being an add-on or afterthought.
TV: Holistic and integrated – those are powerful concepts. Implementing them must be quite challenging. How can our customers picture this in action?
AD: You've nailed it, Thomas. Bringing these concepts to life requires a lot of dedication. But it's totally worth it in the long run. Instead of having a separate sustainability department with folks focusing only on green initiatives, we make sure that every department, every process in our business, carries the ethos of sustainability. It's a part of our DNA, not just a department.
So yes, getting it into every nook and cranny of the company does take time, and sometimes, because of lack of resources or understanding, there's a degree of pushback at first. Though once everyone truly grasps that sustainability isn't just a trend but essential to our mindset and actions, and that it's constantly evolving, then it becomes a win-win for everyone. Every single one of us chips in and makes a difference – and that's a vital reason to keep pushing forward, especially with an eye to the future.
TV: So, how do we make sure our team "gets it" and is truly on board?
AD: We tackle it from different angles – a mix of getting folks excited, keeping them in the loop, training sessions, communication, tools, and hands-on action. We have to give the process some time and build up skills within our team step by step. No cramming, no crazy pressure. Remember, at Bründl Sports, we're all about growing our people, not just giving them a desk to work at. What we've seen is that the best motivation comes from seeing real change and being part of it. Every step we take? We celebrate. Every department? They're constantly sharing experiences, both about the bumps in the road and the positives.
And we've even put together a special task force, our "B-Green Team". Every corner of our company has a sustainability scout that's a member of this group, someone who's constantly on the lookout for sustainable approaches and ideas. Regular catch-up sessions keep the ball rolling and provide a platform to chat about how we're doing. Plus, sustainability isn't just a side topic – it's also a staple agenda item in our executive management meetings.
TV: What helpful tools are we using to make this happen within the company?
AD: We start by using those we already have in our tool chest. For instance, we have this employee communication app with sustainability integrated into it. We track green initiatives and ideas using an existing project management program. But, we've also invested in ESG* software to store all the fresh data about our carbon footprints and other sustainability metrics, ensuring we are able to accurately measure how we're doing. We've also developed a roadmap for leadership, too, highlighting major milestones as we pursue our goals. The sustainability metrics? They're fed into our company dashboard by our "number-crunchers". Oh, and let's not forget the Bründl Code of Conduct either - it's like our compass, and something we introduce to everyone whenever they join our team.
*FYI: ESG stands for Environmental-Social-Governance – the major pillars of sustainability.
TV: How do we make sure our suppliers are also committed to sustainability?
AD: We've developed a comprehensive checklist. Using it, we team up with our suppliers and partners, first to ensure they're meeting all the legal standards for those three sustainability pillars. But we don't stop at the basics – we also expect actions that go beyond just checking boxes. We tweak this checklist every year, making sure it aligns with our evolving company goals, and then we hash issues out with the suppliers. We also have this ingenious rating system to track how well our partners are managing to "go green". Step by step, we're aiming to fill our supplier portfolio with more and more brands that are 100% committed to sustainable practices.
Plus, we're all about teaming up to find synergies and solutions to the big challenges in the retail sporting goods industry. Such as shifting to a circular economy, cutting down on packaging waste, or reducing shipping emissions. Just this year, for example, we kicked off Bründl Sustainability Days, where we invited industry representatives and our peers in sports retail to brainstorm and come up with some concrete game plans.
TV: What are we doing specifically to get our customers on board with all of this?
AD: Here's the thing: today's market is like a maze of certifications and brands boasting their own green labels. For the everyday Joe, making an informed purchase—considering everything from raw materials to manufacturing, shipping, and disposal—isn't a walk in the park. Hopefully, in the near future, things like Ecodesign regulations and the upcoming "digital product passport" will become way clearer. For our customers, it's all about trust and transparency. So, everyone involved in getting products to market has to chip in, provide as much certainty and knowledge as possible, and break it all down into plain "English" for the customer.
Besides, we see it as our job to raise greater awareness. This means offering solutions and letting customers have their say, too. Things like cutting back on unnecessary lighting in stores, turning down the thermostat, getting customers to bring old products back to the store for recycling, or hosting talks and workshops. We're also about building communities. These services are going to be a big deal in the future, giving folks more chances to get involved and rethink the way they shop.
TV: How do we engage in the community? How do we leave our mark out there?
AD: We're all about stepping up and doing right by the people around us. We're involved in all kinds of charity events and organizations – think Caritas, for instance. We've always been passionate about helping out the less fortunate, encouraging folks to get active, sponsoring up-and-coming athletes, and more.
It's also key for us to network with like-minded groups, places like CSR Circle, Respact, Protect Our Winter, and also Too Good To Go, with foods from our sustainable showcase bistro, the Weitblick. In this way, we can be a role model, though it is definitely a two-way street. We learn a heck of a lot from these collaborations, staying in the loop with all the ever-changing news and trends that keep coming in our direction.
TV: Wrapping up, let's look to the future: What are our visions and goals in the sustainability realm?
AD: Bründl Sports has zeroed in on eight major areas and laid out our goals until 2030. But the big game-changers, as we see it, boil down to: Being a great place to work and offering space for personal growth. Treating waste as a valuable resource whilst aiming squarely at zero waste. The third element is all about the social and ecological impacts of the products in our supply chain. So, our big dream? Making shopping a concern-free experience for our customers by offering only B-Green Label products. We want to put local businesses front and center and work exclusively with suppliers who are truly committed to a sustainable future.
What have we built together?
Waste Avoidance and Circular Economy
Designated waste avoidance officers in the company. A savings of 5 tons of residual waste this business year alone, thanks to Atomic's Take Back project, where recycled ski boots are turned into new ones. Constructive collaboration between procurement and partners to reduce packaging waste upon delivery. Sustainability Days with partners and the industry to find joint solutions.
Sustainability within the Bründl Team
Encouragement of carpooling, offering the option of home office, free bicycle use between stores, and pushing the "Jobrad" initiative. Organic meals for staff and regular lectures and workshops on sustainability. Promoting equality within the company, such as increasing the number of women in leadership positions.
Conscious Shopping Experiences
You won't see 5,000 plastic bottles a year at our stores anymore. Why? We've now installed stone drinking fountains and provide reusable cups. We've switched to sustainable, recycled materials for shopping bags and promotional items. Print media? As climate-neutral and "green" as it gets. We're also really excited about our whole cradle-to-cradle approach too.
Rooftop-Bistro "Weitblick"
We're bio-certified, Bio Austria Gold Partners, and proudly boast the Eco Seal. The menu? Local, organic, seasonal, also featuring leaner choices with less sugar and fat.
ÖGNI-Certified Flagship Store in Kaprun
Not just another store! 2/3 local suppliers, home-sourced materials like Rauris natural stone. All lights powered by 100% green electricity, and the building cooled by glacier water. Plus, we've almost completely switched to LED lighting.