The latest ski and touring trends from top brands like Atomic, Head, Marker, and more promise a winter of superlatives. Are you ready?
The freshest must-haves and exciting innovations in comfort, performance, and sustainability are getting everyone pumped for a snowy winter ahead. Our experts have taken a closer look at some interesting new releases for you.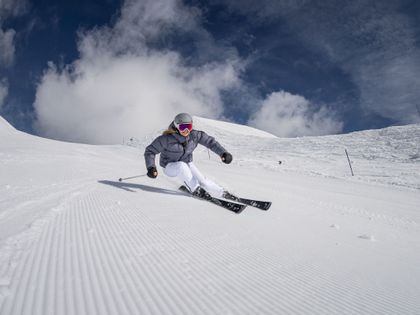 Atomic Redster X9S Revoshock S
For skiers seeking speed and versatility, this ski blends World Cup-tested technologies with a multi-radius sidecut.
The Redster X9 S Revoshock S delivers quick, short carving turns as well as long, enjoyable sweeps across wide-radius bends. Thanks to the Revoshock S system, this ski is both agile and reliable, making even icy early morning slopes a joy to navigate.
A dual-layer TI laminate enhances the overall stability and torsional rigidity of the ski. Its Ultrawall construction combines the edge grip and power transmission of a full sidewall with the robustness and durability of a cap finish. The Ultra Power Woodcore—a feature found in Atomic's FIS race skis—guarantees pro-level stability for maximum speeds and endless fun from the first gondola ride to the last downhill run.
Head Real Joy SLR
The brand-new Joy skis are biomechanically perfected in every detail to meet women's specific needs.
Over the past decade, the Joy series has been a bestseller in Head's ski collection. For the 23/24 season, Head has launched a slew of innovations, with Austrian ski legend Anna Veith playing a significant role in developing the features that make the Joy the women's ski of the season. Her expertise, experience, and commitment have been essential to elevating the "Joy Performance" to the highest levels and boosting your skiing joy to new heights.
Dalbello Green Gaia GW
Dalbello is making a forward-thinking statement with Project Reboot, introducing one of the industry's most sustainable ski boots.
The extremely sustainable Green Gaia GW, specifically designed for aspiring female skiers, is a super lightweight overlap model, with its high-tech shell made from 100% recycled materials. The textiles and foams of the inner boots are also made from 100% recycled materials. Every component is designed in accordance with the latest eco-design standards, making the entire boot recyclable.
Four aluminum buckles and the stiff construction make the Green Gaia GW very stable, improving power transfer and providing a firm grip for the foot. The optimized fit, the comfortable, thermally insulated inner boot, and the pre-installed GripWalk soles ensure that dedicated skiers have fun all day long. In addition to the four-buckle model, the Green Gaia GW is also available in smaller sizes with one or two buckles.
Atomic Hawx Ultra XTD 130 BOA GW
A crossover ski boot with BOA® Fit System Alpine that marries peak alpine performance with uphill efficiency.
The second-generation Prolite construction melds a slim, lightweight profile with reinforcements at key points, resulting in a boot that is 25% more stable than its predecessor and ideal for powerful all-mountain and freeride touring skiing. The BOA® Fit System Alpine ensures an even shell closure around the foot, optimizing heel hold and thus providing precise performance and maximum comfort.
Thanks to the Memory Fit heat molding and Mimic Platinum inner boot, the shoe can be tailored precisely to the individual foot shape. The highly flexible GripWalk sole is compatible with all GripWalk, MN, MNC, and Pin bindings, and the generous 54º cuff movement offers plenty of foot flexibility. With its stiff flex and a narrow 98mm last, the robust Hawx Ultra XTD 130 BOA GW is perfect for those who love to explore both the ski resort and the backcountry.
The women's model Atomic Hawx Ultra XTD 115 BOA W GW is designed for ambitious female skiers who desire a powerful boot with a narrow fit for both on- and off-piste. With a narrow 98mm last, it's the stiffest Hawx Ultra XTD boot for women.
Atomic Backland 85
Crafted based on a comprehensive environmental impact assessment, this lightweight touring ski offers the perfect balance between uphill efficiency and downhill performance.
The Atomic Backland 85 inaugurates a new era in ski design by reducing the CO2 emissions by 30% through the use of locally grown poplar wood, less fiberglass and resin, and waste-reducing sidewalls. The new, wide three-dimensional HRZN 3D tip offers better lift in powder and reduced chatter. Additionally, the newly developed All-Terrain profile adds extra torsional stiffness and an improved flex pattern for better grip on hard snow.
Light, stable, versatile, and exceptionally reliable in all conditions—including chopped-up snow or crusty terrain—this latest iteration of the original Backland construction offers endless possibilities for morning tours, quick after-work outings, or extended backcountry expeditions.
Tip: For the ultimate touring setup, we offer both men's and women's models as part of a full set that includes Marker Alpinist bindings and matching skins!
Atomic Backland XTD Carbon
Thanks to its stiff flex, ideal for ambitious skiers who desire an all-around touring boot with strong downhill performance and high efficiency on the ascent.
The Atomic Backland XTD Carbon 120 (or the 115 W for women) features a medium-width 100mm last and optimally transmits the skier's power even to wider touring skis. Moreover, the foot can move naturally during the ascent without compromising secure and powerful edging. The Prolite technology, with a thin profile reinforced where stability is needed, makes the boot lightweight yet robust.
The partially overlapping, upward-opening shell design makes entry and exit easier and provides a snug fit. Furthermore, the shell, cuff, and inner boot can be individually adjusted using Memory Fit heat molding. The breathable, washable, PVC-free 3D Platinum Tour inner boot offers an excellent fit and efficient climate control.
A 74º cuff movement range enables natural freedom of movement for a seamless ascent. The full-length touring-standard rubber sole is compatible with the Atomic Shift as well as all MN, MNC, and Pin bindings. By the way, the Backland XTD models are the most versatile touring boots in the Backland series and offer the best downhill performance.
Marker Cruise
As an industry pioneer, Marker presents the first binding made from sustainable materials.
In addition to numerous features for easy handling, Marker has primarily focused on the aspect of sustainability for their new Cruise comfort binding. Only biobased and recycled plastics are used in production, reducing CO2 emissions by up to 63%.
The highly ergonomic climbing aid is easily operated even in very cold temperatures using your ski pole, and you can set three different angles (0°, 8°, and 12°) for optimal walking or ascending positions. Both horizontal and vertical release values can be easily adjusted independently via a screw.
Weighing in at just 475 grams, the new Cruise is one of the lightest comfort bindings on the market and is available in two versions: Cruise 10 (DIN Range 4 to 10) and Cruise 12 (DIN Range 6 to 12). Compatible brakes are available in two widths, 90 and 105 millimeters.
News from Atomic, Head, Marker und Dalbello